SIA: Cravat Jumper
Posted: July 14, 2021
Filed under: Clothes, Style Imitating Art
| Tags: style imitating art
10 Comments
Welcome to another SIA challenge! This week, our inspiration is this cravat jumper by legendary designer Elsa Schiaparelli. It's a bit of a tricky piece, but everybody did a great job translating it into summer-appropriate outfits, so let's get to it!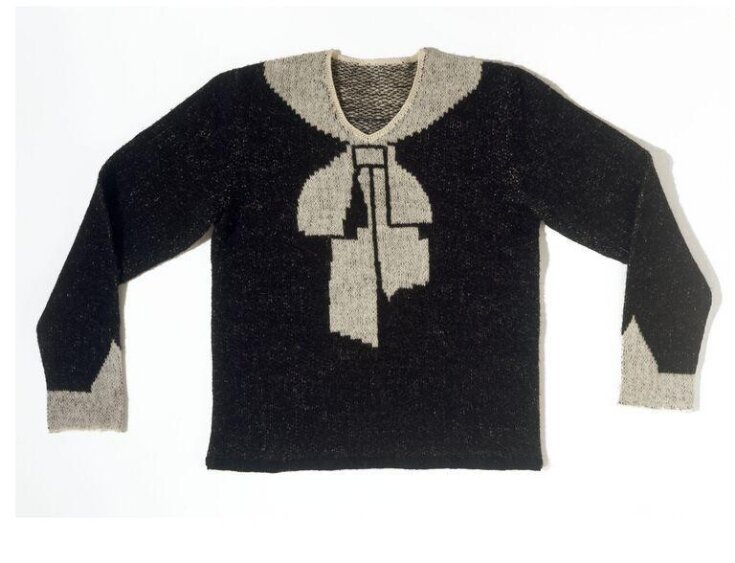 First up is Shelbee, who sent in two photos – one of herself in a dark gray dress with a scarf and bracelets to mimic the cravat and the cuffs of the jumper, and one of her son Ralphie in his actual cravat jumper. How cute are they?!
Up next is my co-host, Terri, in a simple black-and-white look with a bow:
Reni cleverly layered a black slip dress (with a bow!) on top of a white T-shirt to achieve the monochromatic look of the sweater:
Kezzie sent in two outfits, plus a sweater that would have been perfect had this challenge taken place during the winter (but that's why I chose it, to make it more difficult and interesting.) Her two outfits are perfect too, don't you think?
My other co-host, Daenel, struggled with this too because it's too minimal for her style. Her outfit is spot-on though (also featuring her adorable dog!):
Suzy also had her doubts about her outfit, but I think the combination of the dress and the cardigan is great:
And finally, here's me:
A big "thank you" to all our participants, and don't forget to check back next week for the new challenge inspiration, picked by Daenel!
---