Posted: September 16, 2020
Filed under:
Clothes
| Tags: blue, blue lace-up flats, brooch, navy linen dress
3 Comments
No, not "blue" as in "sad", I'm just running out of titles and that cheesy dance song just came into my head (if anyone has it stuck in their head now, I am so sorry.) Anyway, here is my attempt to style this dress more casually. I still had to add a brooch, of course – the dress is the perfect blank canvas for brooches and pins – but it's an embroidered brooch, which again, is more casual than the silver one I wore last time. The flats are still pretty dressy, but I always think of flats as more casual than heels. However, I think this dress needs heels. It hits me at an unflattering place, and with heels, my legs wouldn't look so dumpy. But that's the fun of experimenting with fashion, isn't it? You figure out what works and what doesn't as you go along.
---
Posted: September 14, 2020
Filed under:
Style Imitating Art
| Tags: style imitating art
Leave a comment
This week's SIA inspiration is a 19th-century cap chosen by Daenel: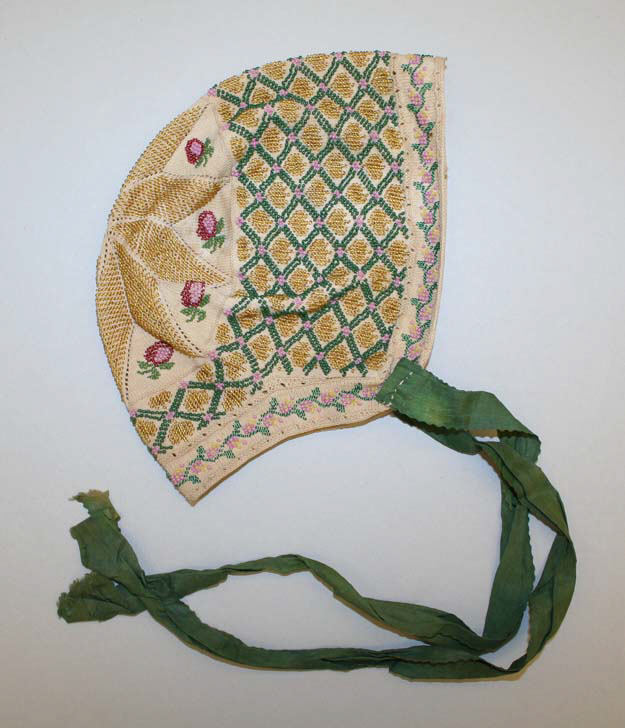 Daenel chose it because "it's a nice transitional piece, summer fading into fall," and "the colors are soft but rich." The green and the embroideries are definitely up my alley, so I'm looking forward to this. Remember to send your outfits to Daenel by next Tuesday, September 22nd. Have fun!
---
Posted: September 9, 2020
Filed under: Clothes, Style Imitating Art
| Tags: style imitating art
4 Comments
Welcome to another week of Style Imitating Art! Our inspiration is one of Amber Share's hilarious "Subpar Parks" posters, and we have a collection of fun, varied interpretations here, so let's get to them!
First up is Terri, who submitted an older outfit but it has all the elements of the poster. Check out her sweet Pendleton jacket, which is making me long for fall/winter even more than usual:
Up next is one of my co-hosts, Daenel, who still managed to take photos in the midst of cleaning up after Hurricane Laura and dealing with actual face-biting bugs. We're glad you're OK, Daenel!
My other co-host, Kim, went with an "outdoors" theme which fits the poster perfectly:
Leslie said her Smokey the Bear tee didn't arrive in time for SIA, which is too bad, because I'm sure it would've looked awesome! But her outfit is really cute too:
We can always count on Kezzie for something super cute and sweet, and her green dress with bug pins (I approve) is no exception:
And finally, here's me:
Big thanks to everybody for participating, and don't forget to check back next week for another inspiration!
---