Posted: September 7, 2022
Filed under:
Clothes
| Tags: beige, beige clogs, beige embroidered linen blouse, brown, tan striped skirt
3 Comments
At the risk of sounding like the most basic ever, beige really is my color. Or, more exactly, it's my light neutral color. Pure white is too harsh on my skin, and while cream/ivory works too, there's something about beige that really balances out my yellow undertone and makes me look not so sallow or pale anymore – and this top is a prime example of that (yes, it's an entire beige outfit, but I'm talking about things close to my face.) However, as I tend to reach for darker colors,  plus pure white are always the go-to light neutral in most shops, I don't have a lot of beige tops in my closet. I need to remember this the next time I reach for yet another white broderie anglaise top.
---
Posted: August 22, 2022
Filed under: Clothes, Style Imitating Art
| Tags: beige clogs, brooch, brown, green, green silk blouse, style imitating art, yellow, yellow printed dress
3 Comments
For this week's SIA, inspired by the "Calyx" fabric designed by British artist Lucienne Day, I had to dig around for a bit. I do have prints in my closet, but they're mostly "classic" ones like stripes, plaid, and floral, nothing that matches the graphic quality of this print. Then I remembered this dress – I mean, short of buying the fabric myself and making a garment out of it, this is the closest I can get, both in terms of the color scheme and the print. The original design has an olive green background, so I paired the dress with my green silk shirt (it was almost identical to the last time I wore this dress, but hey, when a formula works…) My brooch is a nod to the print as well. All in all, I'm quite pleased with how the outfit turned out, even if it took me a while to come up with it. Usually when something takes me a long time, I'll end up overthinking it and the outfit would be overwrought, but this one is just right.
Don't forget to check Terri's blog on Wednesday to see what everybody wears!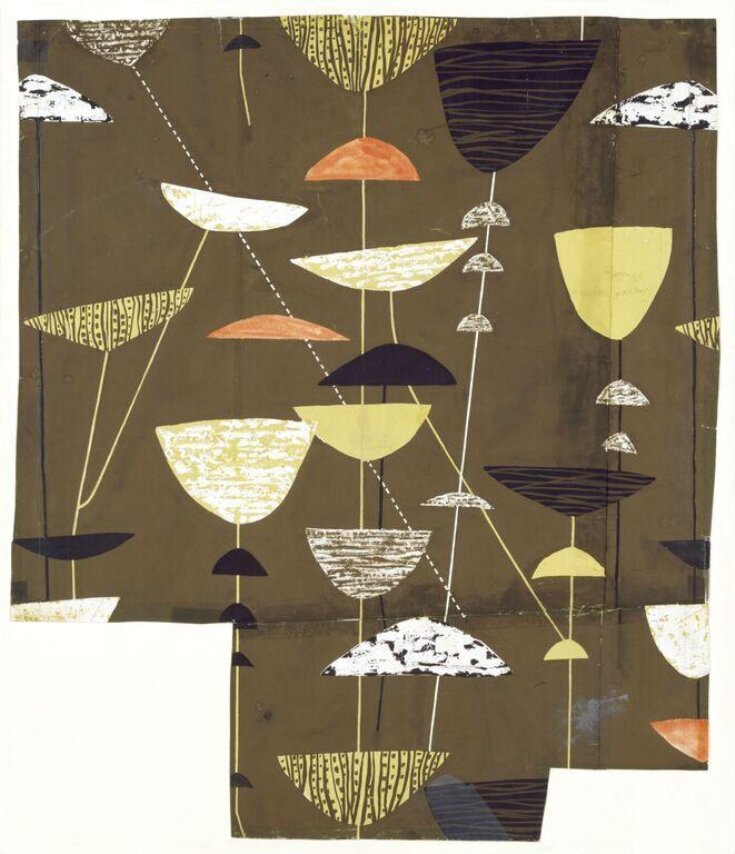 ---