Posted: September 19, 2022
Filed under:
Life
| Tags: belt, brooch, brown, green, green cut-out heels, green floral dress, style imitating art
3 Comments
This is yet another green, hand-me-down dress from my sister. I don't understand why she keeps buying these green dresses and foisting them on me – surely, after the first or at least the second one, she would've realized that she doesn't like green and stops buying them? (Actually, the fact that they're all green is just a coincidence.) I'm not complaining though, especially because this dress is perfect for this week's SIA, which is inspired by Cuno Amiet's "Sunspots". I really leaned into the green theme with my green shoes and owl brooch, not because there is a hidden owl in the painting, but because my owl brooch has green eyes. The early morning sun as I took these photos was a nice addition as well 🙂
Remember to check back on Wednesday to see how everybody interpreted this challenge!
---
Posted: August 22, 2022
Filed under: Clothes, Style Imitating Art
| Tags: beige clogs, brooch, brown, green, green silk blouse, style imitating art, yellow, yellow printed dress
3 Comments
For this week's SIA, inspired by the "Calyx" fabric designed by British artist Lucienne Day, I had to dig around for a bit. I do have prints in my closet, but they're mostly "classic" ones like stripes, plaid, and floral, nothing that matches the graphic quality of this print. Then I remembered this dress – I mean, short of buying the fabric myself and making a garment out of it, this is the closest I can get, both in terms of the color scheme and the print. The original design has an olive green background, so I paired the dress with my green silk shirt (it was almost identical to the last time I wore this dress, but hey, when a formula works…) My brooch is a nod to the print as well. All in all, I'm quite pleased with how the outfit turned out, even if it took me a while to come up with it. Usually when something takes me a long time, I'll end up overthinking it and the outfit would be overwrought, but this one is just right.
Don't forget to check Terri's blog on Wednesday to see what everybody wears!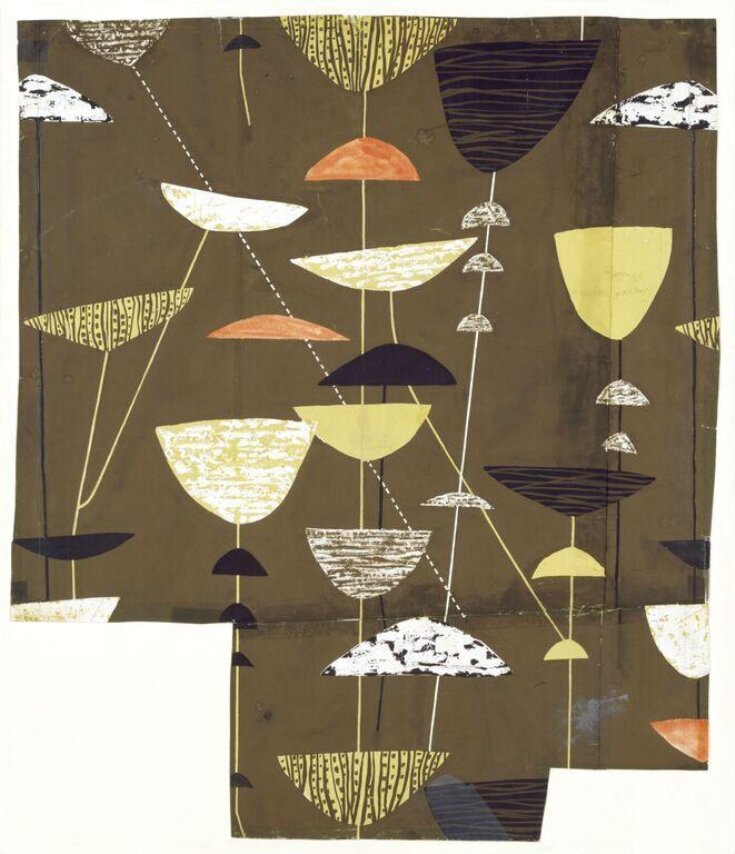 ---
Posted: August 17, 2022
Filed under:
Clothes
| Tags: belt, black, black t-straps, brooch, green, green polka dot dress
2 Comments
I'm unwittingly going with a green theme this week. I used to believe that I couldn't wear green because of the yellow undertone of my skin (there's a saying in Vietnamese that translated to "as green as a tree frog's ass", which is used to describe someone's face when they're ill or sickly – it only applies to faces, I don't know why – and I believed could also be applied to me when I wore green.) But as I played around with different tones, I realized that I could wear green after all – it just depends on the tones. I can do moss, emerald, and olive (basically, either earth-tone or jewel-tone green), but ironically enough, though the post is titled "Apple Green", I can't wear apple green. It's simply too bright for me. I'll just have to resort to wearing it as an accessory instead.
---