Posted: March 27, 2020
Filed under: Life, Travel
| Tags: photography, russia, travel
2 Comments
Our last full day in Moscow was a day of museums. We started the day at the State Historical Building (the red wedding cake-looking building on the other end of Red Square), which displays artifacts of Russian history from pre-historic times up to the end of the Russian Empire. Definitely get the audio guide (for 400RUB extra), because all the displays are in Russian, which I think is stupid, but what can you do? I was particularly taken with all the displays of the development of Russian culture from the 13th to the 16th century – after that, it became too European for me (though still interesting.)
State Historical Museum's front facade
The front hall – the ceiling is painted with a genealogy tree of all the Russian monarchs
Yup, more neck pain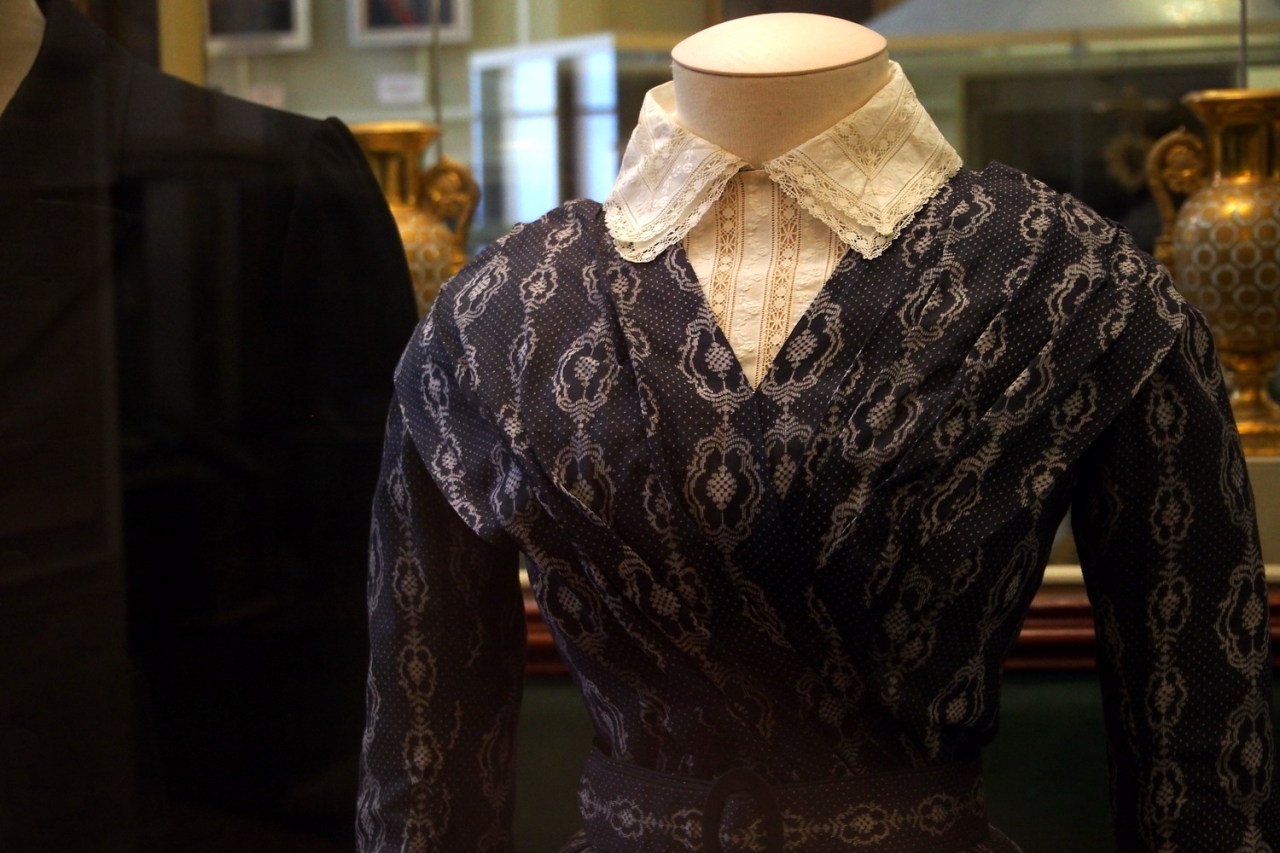 I did enjoy the displays of fashion of the nobilities though
Then, after lunch, it was off to the Kremlin. Here you have the choice of two tickets – one for the Cathedral Square (for 700RUB) and one for the Armory, which houses the treasures of the Russian Empire (for 1000RUB; you have to buy your ticket for a specific time like 10:30, 12, and so on). However, after the State Historical Museum, we decided to forgo the Armory and just checked out the Cathedral Square, which contains five 15th-century cathedrals built back when the entire city of Moscow was inside the Kremlin ("kremlin" in Russia means "fortress", so there are many different Kremlins all over the country.)
Look how empty the Square is! You can never get this in the summer!

Church of the Dormition and Ivan the Great Belltower
Cathedral of the Archangel
Cathedral of the Annunciation
The Tsar Cannon

The Tsar Bell – the biggest bell in the world, but sadly it was broken before it could be suspended
The cathedrals are all impressive, though not as splendidly and lavishly decorated as the ones in Saint Petersburg. The ones in Saint Petersburg had all been restored, while these are left more or less untouched (though some are under renovation), so they look less polished but more authentic.
Most of the cathedrals don't allow photos inside, except for the Cathedral of the Dormition – not sure why
Later, we went to the Memorial Museum of Cosmonautics. It was fun and educational, though I was annoyed with having to pay extra for my camera (taking pictures with your phone is free), and the heat was making us sleepy (the Russians like to keep their buildings super toasty), so after poking about for a bit, we headed back.
Monument to the Conquerors of Space – the museum is located under it
Belka and Strelka, the first two dogs that went into space and returned alive (poor Laika didn't return so her body wasn't recovered)
Various satellites
Lunokhod 1
Space food (you can also buy something like this from a vending machine outside the museum)
If it wasn't so freezing, I would've liked to check out the nearby VDNKh Park – a series of buildings intended to display the Soviet's agricultural, industrial, and technological prowess – but we had one more place to visit, and it was my favorite, the Tretyakov Gallery.
Tretyakov Gallery's entrance (with a statue of Pavel Tretyakov, the man who started the collection, out front)
This was near our apartment, and it was open late on Friday, which was why we saved it for last. Finally, I was in my element. Not that I wasn't in my element at the other museums, but this was where I could solely concentrate on the artworks and not get distracted by the interior (like at the Hermitage.)

Some of my favorite works – "The Rider" by Karl Bryullov and "The Unequal Marriage" by Vasili Pukirev
Detail of "Portrait of Princess M.V. Vorontsova" by Sergei Zaryanko – just look at that lace! And that satin!

"Portrait of an Unknown Woman" by Ivan Kramskoi
"Golden Autumn" by Isaac Levitan
"Girl with Peaches" by Valentin Serov
We had half a day left in Moscow, and it was time for some souvenir shopping. Having done my research and with tips from our walking tour guide, we headed to the Izmailovsky Market on the outskirt of Moscow (you can take the Metro there, but remember to get off at Partizanskaya Station, not Izmailovskaya Station. Confusing, I know.)
The Izmailovsky Kremlin, where the market is located
Here you can find the same souvenirs – Russian dolls, fur hats, amber jewelry, etc. – for a fraction of the prices of the shop in the city center. On the weekends, there is also a flea market selling everything from old clothes and toys to books, records, and silverware (I got two beautiful old pewter mugs from one of these sellers.) Bring cash and prepare to bargain – the sellers agreed to our prices so readily that we suspected we could have gone even lower. If we hadn't run out of cash and time (and luggage space), we would've stayed for much longer.
Old Soviet pins
You can also find more than the traditional Russian dolls (see Putin and other Russian leaders up there?)
We absolutely lost it at these dolls – the smallest one is smaller than a pea!
Finally, after a frenzy of packing and 1.5 hours sitting in Moscow traffic (we had a lot of luggage so we had to take a taxi to the airport instead of the much-quicker Aeroexpress train), we were on our way home. Goodbye, Russia. It was a whirlwind of a trip, and I was exhausted – exhausted by all the traveling, by the extremes of weather, and by all the beauty – but left wanting for more. I still haven't fulfilled my Trans-Siberia dream yet, so I'll definitely return one day!
And on that note, I'm going to end the post with this video of a musician at the Metro – you don't get much more Russian than this:
---