Posted: July 20, 2018
Filed under:
Clothes
| Tags: black, black khaki pants, black loafers, brown, brown fish-print blouse
1 Comment
Our house was under renovation when I took these photos. My usual location (the front yard) was taken over by a pile of sand and a cement mixer, hence the new location (the side yard). It's actually easier to set focus here thanks to the branches and bushes on the sides of the path, so maybe I'll take photos here more often.
Anyway, this is a simple and not very blog-worthy outfit, but I'd like to post it anyway to give this blouse some spotlight. It's so fun and I wear it a lot, but it rarely gets featured on the blog because I always pair it with basic pieces – I don't want any color or accessory to clash with the print. Do you guys have any suggestion?
---
Posted: June 13, 2018
Filed under:
Clothes
| Tags: black, black loafers, black printed blouse, green, green linen pants
2 Comments
Now that school's out for the summer (isn't that an Alice Cooper song?) and I don't have to meet students every day, my work clothes can be a lot more relaxed, and more relaxing, too. Not that my work clothes are ever formal or business-like (one of the things I love about working at a film school), but I always try dressing a bit more professionally whenever I have to teach – blouses and skirts and heels instead of T-shirts and flats, for example. But as these are the last days of the semester, I can afford to be a little more comfortable.
These pants are quickly becoming my go-to for the summer. They're ridiculously comfy, they go with everything, and apparently, linen is a big trend this summer, so they're an all-around winner. Same goes for these loafers. The pointed toes make them more dressy than your average flats, but they still retain all the comfort. I'm finding it increasingly harder to wear heels. Just one day in heels and my knees would be killing me. Maybe I'm getting old.
---
Posted: May 7, 2018
Filed under: Clothes, Style Imitating Art
| Tags: black, black loafers, blue, navy culottes, style imitating art, white, white embroidered blouse
4 Comments
I had a different outfit planned for this week's SIA. See, when I saw the cherry blossoms and the criss-crossing on the inspiration piece, a Japanese Nabeshima dish, I'd decided to wear my white embroidered cardigan and navy gingham shirt, with light-blue jeans. Unfortunately, the weather warmed up unexpectedly and completely upended my plan. So in the end I picked another embroidered piece – this blouse – and navy culottes (they're supposed to be culottes, but on my short legs, they look more like simple wide-leg pants. Which is just as well, because culottes are really unflattering on me) to represent the blue elements of the dish. Not the outfit I'd imagine, but I still liked it, both as an outfit and an interpretation of this week's inspiration.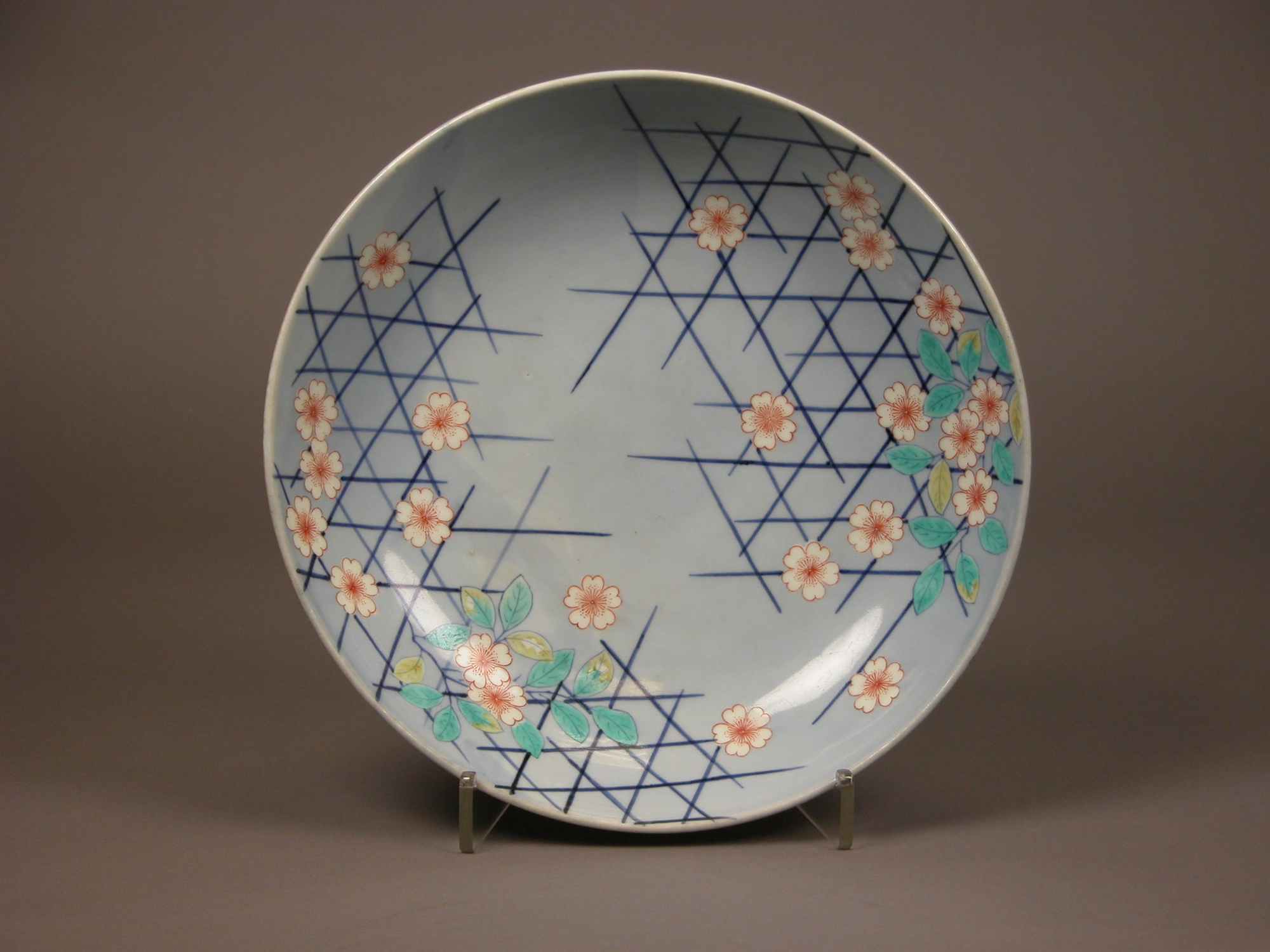 If you haven't sent me your outfit, you still have until tomorrow. Otherwise, see you in the round-up post on Wednesday!
---