Posted: April 2, 2018
Filed under: Clothes, Style Imitating Art
| Tags: brown, brown suede ankle boots, gray, gray jeans, style imitating art, white tree-print blouse
3 Comments
Here's my outfit for this week's SIA, inspired by "Farewell at the Bridge of the Hanging Rainbow" after the style of Tang Yin. It's very self-explanatory, as you can see – this top is perfect for the ink-wash trees in the painting, and I kept the rest of the outfit in neutral earth tones to reflect the subdued monotone of the painting.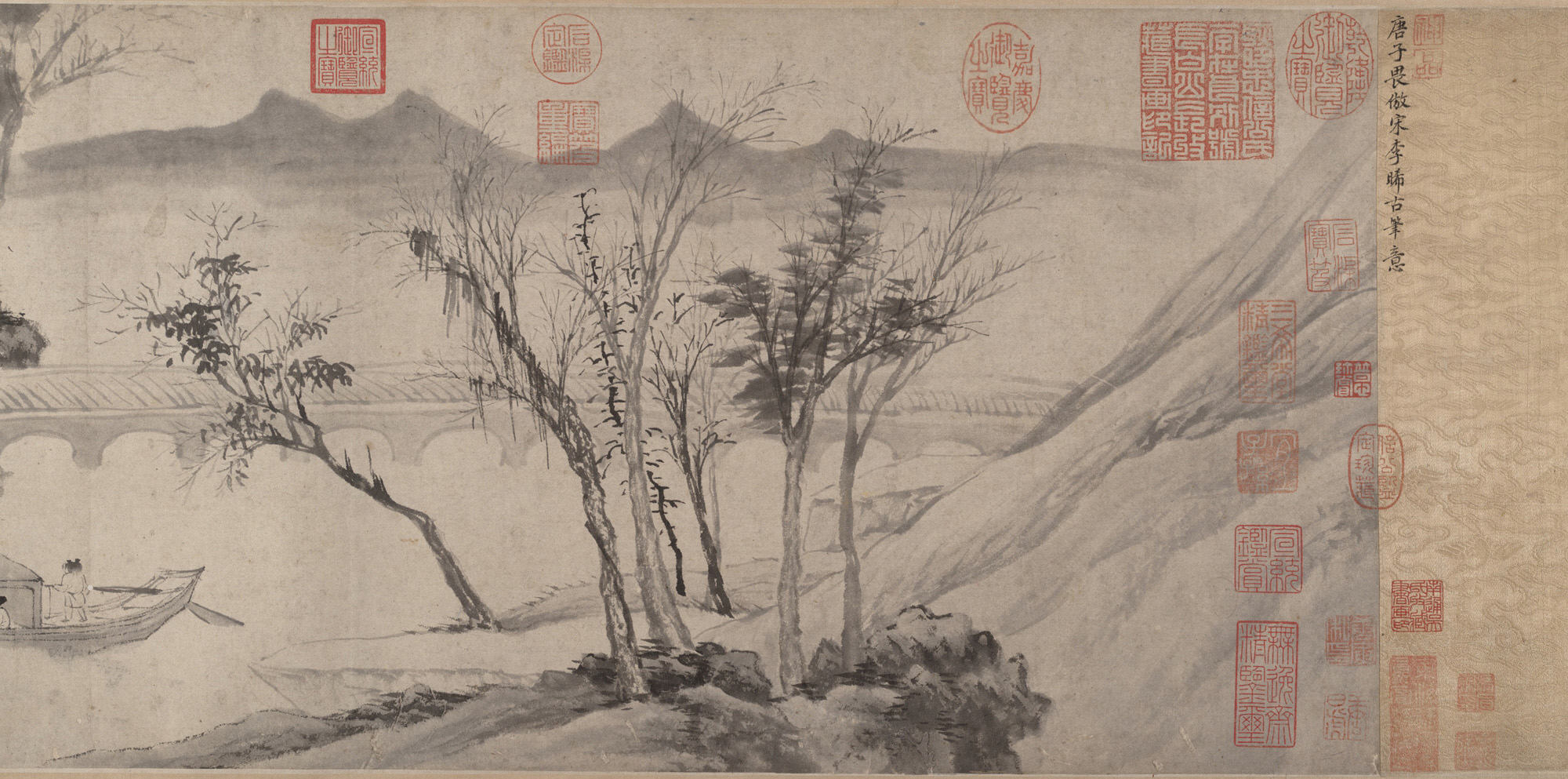 This, if you remember, is also Erin's last challenge as a SIA host, and while we are sad to lose her, fear not. SIA will still continue as usual, and I hope we can meet Erin again as a participant. Good luck, Erin! We'll miss you!
---
Posted: January 5, 2018
Filed under:
Clothes
| Tags: beige v-neck sweater, black, black midi skirt, brown, brown suede ankle boots, red, red scarf
2 Comments
Happy New Year! So I just took an impromptu break, for a combination of reasons. I figure it's the week after Christmas and New Year's Day, so everything is pretty quiet on the blogosphere. Plus it's finals week at work so I was super busy with papers to grade, grades to calculate and turn in, and new schedules to set up for next term. Plus the weather has been absolutely hideous, gray and drizzly and miserable (this was taken weeks ago, when it was still nice-ish) so I had no interest in putting together any blog-worthy outfits. But heck, why am I complaining? It's colder than Mars in the US and there's a freaking storm over Europe, so we're actually having it easy over here.
… so how's 2018 treating you so far?
---
Posted: December 4, 2017
Filed under: Clothes, Style Imitating Art
| Tags: black, black turtleneck, blue, brown, brown suede ankle boots, leather jacket, navy skinny jeans, stars and stripes scarf, style imitating art
3 Comments
When I saw the inspiration for this week's SIA, I immediately knew that this star-and-stripe scarf is going to be the foundation of my outfit – the colors and the prints are just perfect, right? You have the stars for the "celestial" part, and the stripes for the silhouette part of the photo. The rest of the outfit takes a bit more thinking. In the end, I went with these jeans because the wash looks a bit like the sky in the photo and the boots because there is a touch of yellow near the bottom of the photo. The black turtleneck and jacket – well, they're a no-brainer. So a lot of thought went into this seemingly simple outfit, but that's the fun of SIA.
Don't forget to check Erin's blog on Wednesday for the full round-up!
---