Posted: September 5, 2022
Filed under:
Clothes
| Tags: brown, green, maroon dress, maroon heeled oxfords, red, style imitating art, william morris waistcoat
4 Comments
For this week's SIA, inspired by Keith Haring's "Tree of Life", I knew I had to go a bit interpretative because I have nothing in my wardrobe that can reflect the painting accurately. I have nothing in those colors, even. After digging around, I came up with this William Morris waistcoat – the leaf print is certainly reminiscent of the "tree" in the painting, and the colors are quite similar as well, only in more muted tones. I layered it with my maroon dress, which miraculously matches the background of the waistcoat. It's still too warm for layering, but the waistcoat is light enough, so it wasn't too bad early in the morning. Basically, I took a Pop Art painting and turned it into an Arts and Crafts outfit instead. But hey, that's the fun of SIA, right?
Don't forget to drop by Shelbee's blog on Wednesday to see other outfits inspired by this painting!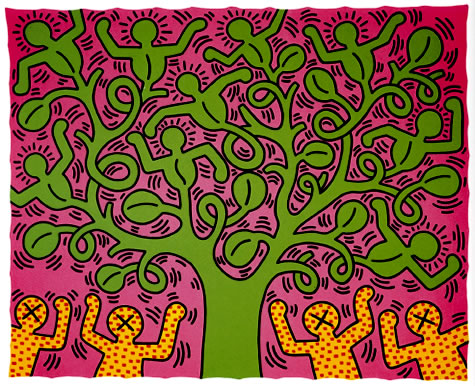 ---