Posted: May 7, 2018
Filed under: Clothes, Style Imitating Art
| Tags: black, black loafers, blue, navy culottes, style imitating art, white, white embroidered blouse
4 Comments
I had a different outfit planned for this week's SIA. See, when I saw the cherry blossoms and the criss-crossing on the inspiration piece, a Japanese Nabeshima dish, I'd decided to wear my white embroidered cardigan and navy gingham shirt, with light-blue jeans. Unfortunately, the weather warmed up unexpectedly and completely upended my plan. So in the end I picked another embroidered piece – this blouse – and navy culottes (they're supposed to be culottes, but on my short legs, they look more like simple wide-leg pants. Which is just as well, because culottes are really unflattering on me) to represent the blue elements of the dish. Not the outfit I'd imagine, but I still liked it, both as an outfit and an interpretation of this week's inspiration.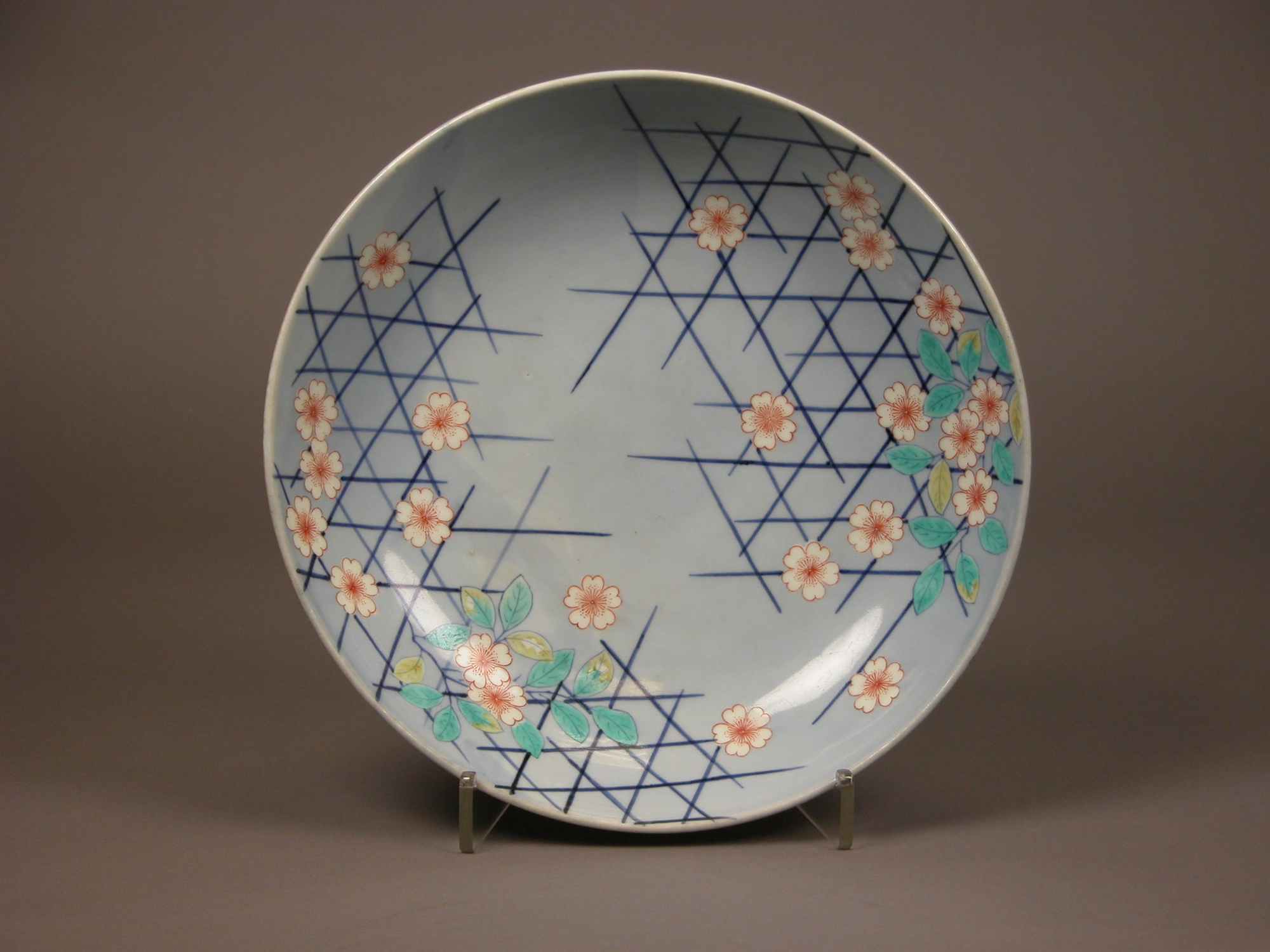 If you haven't sent me your outfit, you still have until tomorrow. Otherwise, see you in the round-up post on Wednesday!
---
Posted: May 2, 2018
Filed under:
Clothes
| Tags: black, black blazer, blue, brooch, navy skinny jeans, pink, pink sneakers, white, white eyelet top
2 Comments
My students gave me this cherry blossom brooch for International Women's Day back in March, but I didn't get around to wearing it until now.  And wearing it reminded me of the cherry blossoms at Lake Balboa Park near my apartment in LA (not to be confused with Balboa Park in San Diego).
If there is one thing I missed about living in LA, it's the cherry blossoms at a park near my apartment building. Every year around March, I would spend almost all of my days off there, taking photos of the clouds of pink blossoms until my camera battery died. I even remember seeing some Japanese-American families there for blossom-viewing parties. You don't get flowers like that in Vietnam (well, we do have plum blossoms and peach blossoms here around February, but you'd have to travel to the mountain region to see them in large quantities.) Guess I'll just have to be content with some old photos then.
---
Posted: February 19, 2018
Filed under: Clothes, Style Imitating Art
| Tags: black, blue, blue skinny jeans, chelsea boots, leather jacket, style imitating art, white, white turtleneck
Leave a comment
For this week's SIA, inspired by a photo of the Chicago Bean covered in snow, I was going to go all gray with black and white touches, but the result outfit looked too dull. It didn't help that my gray jeans don't really go well with these boots. So I had to scrap it and start again, keeping the leather jacket and black boots, but switched my gray sweater for a white one (for snow) and my gray jeans for the light-blue pair. The result may not be as close to the inspiration as I'd like, but I much prefer this outfit. And it's still all neutral colors, so it's not too bad, right?
---