Posted: February 24, 2020
Filed under: Clothes, Style Imitating Art
| Tags: black brocade boots, maroon jeans, pink floral scarf, red, style imitating art, white, white turtleneck
2 Comments
This week's SIA outfit came about quite quickly for me. I looked at Daenel's pick of the inspiration – a piece of vintage fabric – and thought, "Off-white background, floral, embroideries, red, hints of yellow and brown and green. Done and done." The two pieces that came immediately to my mind were this floral silk scarf and these brocade boots, and I just built my outfit from there. I picked this turtleneck sweater instead of my other white sweaters because I wanted to try pairing a scarf with a turtleneck, and these jeans because… well, they're the only red (or reddish) piece I have. All in all, I'm happy with this.
Don't forget to check out Daenel's blog to see other outfits inspired by this lovely piece!
---
Posted: November 18, 2019
Filed under: Clothes, Style Imitating Art
| Tags: black, black brocade boots, black embroidered sweatshirt, brown, style imitating art, tan linen dress
3 Comments
For this week's SIA, inspired by an 18th-century embroidery sample, I immediately knew I'd wear this embroidered sweatshirt. The bottom, however, required a bit of thinking. I could pair it with my black or gray jeans and be done with it, but I wanted to do something a little different, so in the end, I decided to layer the sweatshirt on top of this striped dress to reflect the striped background of the sample. Finishing off is my trusted pair of embroidered boots, just in case there aren't enough embroideries in this outfit.
Don't forget to check Daenel's blog for more outfits inspired by this work!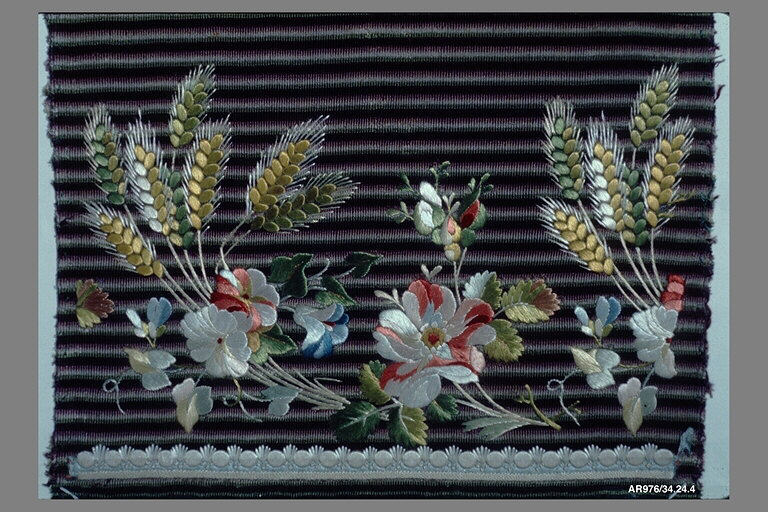 ---
Posted: January 18, 2019
Filed under: Clothes, Style Imitating Art
| Tags: black, black brocade boots, blue, mustard jeans, navy cableknit sweater, navy coat, style imitating art, yellow, yellow scarf
1 Comment
This is my second outfit for SIA. I wasn't going to put together two outfits for this challenge; these mustard jeans and the navy sweater were actually going to be the foundation for my one outfit, but they look absolutely horrendous with my Van Gogh socks, so I had to start again. However, I still thought that the jeans and sweater looked good together and it would be a waste to scrape that outfit altogether. I added my brocade boots, and thus we had a pretty solid interpretation of the inspiration painting.
Originally, the outfit was just going to be the sweater and jeans, but it has been quite arctic around here (we've had snow up in the mountains), and I had to add this coat. Luckily, it matched my sweater perfectly (you know how non-matching shades get me all twitchy.)
---