Posted: August 5, 2020
Filed under:
Clothes
| Tags: black, black sandals, green, green wide-leg pants, white, white floral tee
2 Comments
I can't seem to pair these pants with anything but botanical-themed top. In my defense, this T-shirt is getting pretty faded already, so I wanted to take it out for one last spin, so to speak, before retiring it to my "home" wardrobe – clothes that are old/out of style but still wearable, so I keep them to wear around the house or to run some quick errands if necessary. And then, when they get too old to be worn anymore, they'll get turned into dust rags and cleaning cloths. That's the life cycle of clothes in my house, and I think it's much more economical and makes more sense than the whole Marie Kondo, "spark joy" mumbo-jumbo.
The thing about the Kondo method that rubs me the wrong way is that not all of us can afford to throw things away just because they no longer "spark joy". Of course, if you can donate them, then by all means, do, but I think it's better to find other ways for you to use them. I don't need my things to spark joy. I just need them to be useful.
---
Posted: July 2, 2018
Filed under: Clothes, Style Imitating Art
| Tags: green, green cut-out heels, style imitating art, white, white floral tee, white jeans
4 Comments
We are still in the grips of a heatwave, so here's a simple outfit for this week's SIA, inspired by a piece of Spanish embroidery. Since I've worn a very similar outfit for another SIA challenge, I decided to switch it up by pairing this floral T-shirt with white jeans and adding my green heels to mimic the green scroll at the bottom of the piece. I have to admit, the shoes are kind of an afterthought and I'm not entirely happy with them because they are a bit formal and don't really go with the rest of the outfit, which is more casual. If I had built the outfit around the shoes, I would've worn my embroidered blouse instead. But it was too hot to think anyway, so here we are.
Don't forget to send your outfit to Daenel (if you haven't already) and check out her blog on Wednesday for the round-up of all outfits inspired by this work of art!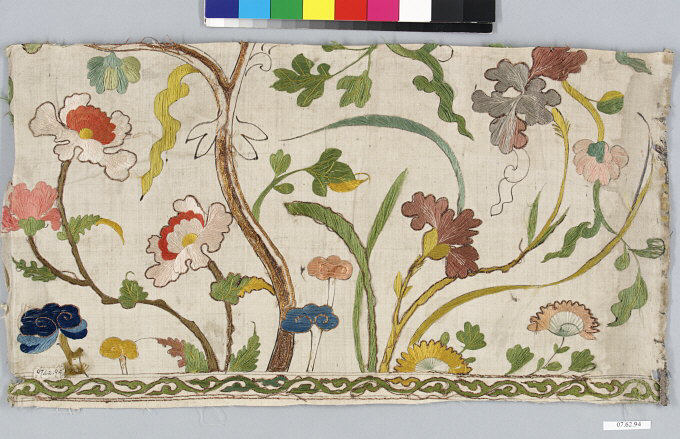 ---
Posted: June 4, 2018
Filed under: Clothes, Style Imitating Art
| Tags: black, black sandals, green, green linen pants, style imitating art, white, white floral tee
4 Comments
This is outfit #1 of my interpretations of this week's SIA, inspired by the botanic illustration of a Memorial Day Poppy – I was so inspired that I actually put together two different outfits for SIA! It wasn't my intention; I already had an outfit lined up, but by a stroke of luck, I found this floral-printed tee, and its colors and graphic prints are so perfect that I had to build another outfit around it. I finished the outfit with these green pants (naturally) and strappy black sandals to echo the black-and-white butterfly in the illustration.
Outfit #2 would be posted on Wednesday, so stay tuned! And don't forget to check Jen's blog for other interpretations of this illustration.
---