Posted: April 15, 2020
Filed under:
Clothes
| Tags: black, black turtleneck, blue, brooch, brown, brown cut-out ankle boots, navy skinny jeans, tan linen dress
2 Comments
One of the things I want to do with my closet during this whole quarantine is to try out different silhouettes and figure out how to style pieces that I don't often wear – like this linen dress, for example. The heavy linen makes it too warm for summer but not warm enough for winter, plus it's too loose on me. So far I've only worn it twice, once as a jacket and once with a sweater layered on top. This is another attempt to layer it in a jacket-like manner, but I don't think it works – some people can pull off the loose silhouette, while I just look like a fancier version of The Dude. I guess I'm just going to wear it as a skirt from now on, or maybe take it to a tailor to get the top taken in (after the pandemic is over, of course.)
---
Posted: November 18, 2019
Filed under: Clothes, Style Imitating Art
| Tags: black, black brocade boots, black embroidered sweatshirt, brown, style imitating art, tan linen dress
3 Comments
For this week's SIA, inspired by an 18th-century embroidery sample, I immediately knew I'd wear this embroidered sweatshirt. The bottom, however, required a bit of thinking. I could pair it with my black or gray jeans and be done with it, but I wanted to do something a little different, so in the end, I decided to layer the sweatshirt on top of this striped dress to reflect the striped background of the sample. Finishing off is my trusted pair of embroidered boots, just in case there aren't enough embroideries in this outfit.
Don't forget to check Daenel's blog for more outfits inspired by this work!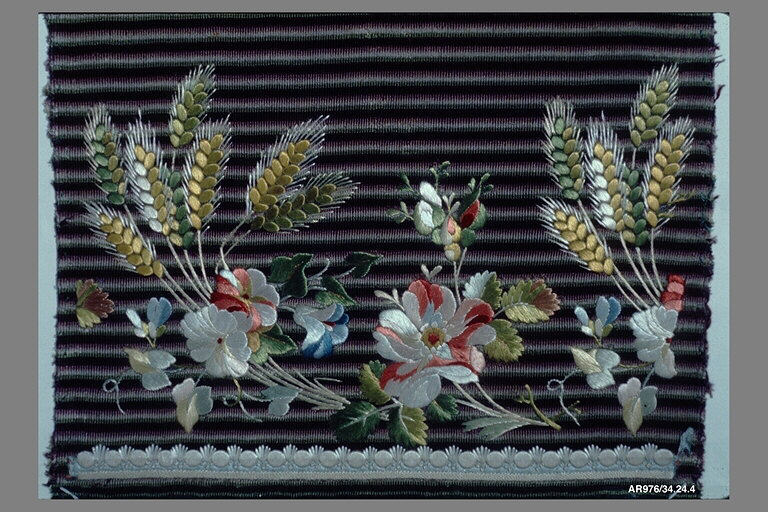 ---
Posted: May 4, 2018
Filed under:
Clothes
| Tags: beige, black, black suede pumps, black tee, blue, navy skinny jeans, necklace, tan linen dress
4 Comments
Happy Star Wars Day! I didn't actually plan my outfit for today, but you can say that it's kind of Star Wars-inspired. My dress/duster coat can pass for a Jedi robe, right? (Even though no Jedi ever wears heels.) And my necklace looks a bit like a Kyber crystal, right? Also, I'm wearing a black T-shirt underneath my tan dress, which represent the Dark Side/Light Side of the Force… no? Reaching? OK, I'll stop now.
Speaking of Star Wars, I'm not very excited about the upcoming Solo spin-off/prequel – I maintain that we don't need a movie about the young Han Solo. What we see in A New Hope is what we get. Plus, I'm sorry, but Alden Ehrenreich looks nothing like Harrison Ford. (Now, if you're going to have a spin-off about Lando Calrissian, as played by Donald Glover? I'd be all over that.)
---