Posted: March 11, 2022
Filed under:
Clothes
| Tags: beige, beige straight leg pants, black, brooch, cityscape sweater, pink, pink loafers, socks
3 Comments
It's been a while since I utilized socks to add colors and patterns to my outfit, mostly because I've been relying on other things for those (patterned sweaters and vests, for one thing) and I haven't found any new socks that really excite me. But when I bought this sweater (another graphic one), I immediately remembered these "cityscape" socks I've had for a while but haven't got a chance to show off on the blog yet, and happily, they go together! I kept the rest of the outfit simple, but I couldn't help adding another whimsical touch – a brooch featuring these fabric owls. If they had been pigeons or crows, it would've fit my "city" theme better, but owls would have to do.
---
Posted: November 27, 2020
Filed under:
Clothes
| Tags: blue, navy striped top, navy wide-leg pants, pink, pink loafers, socks
Leave a comment
I'm sorry for that terrible pun of a title. It sounds like a bad Sean Connery (RIP) impression. Anyway, the reason for the pun is, of course, I'm wearing mesh socks. This year, my fall/winter style is leaning decidedly toward a more vintage look, I still haven't forgotten some of my favorite pairings from last season, especially the funky socks looks. So here is another outfit with socks, except I'm experimenting with mesh socks this time. They're not especially comfortable to wear (maybe because I got the cheap kind), but they're fun and different from my usual printed socks, so I'll give them a few more tries.
---
Posted: May 8, 2020
Filed under:
Clothes
| Tags: blue, blue boyfriend jeans, navy turtleneck sweater, pink, pink loafers, socks
1 Comment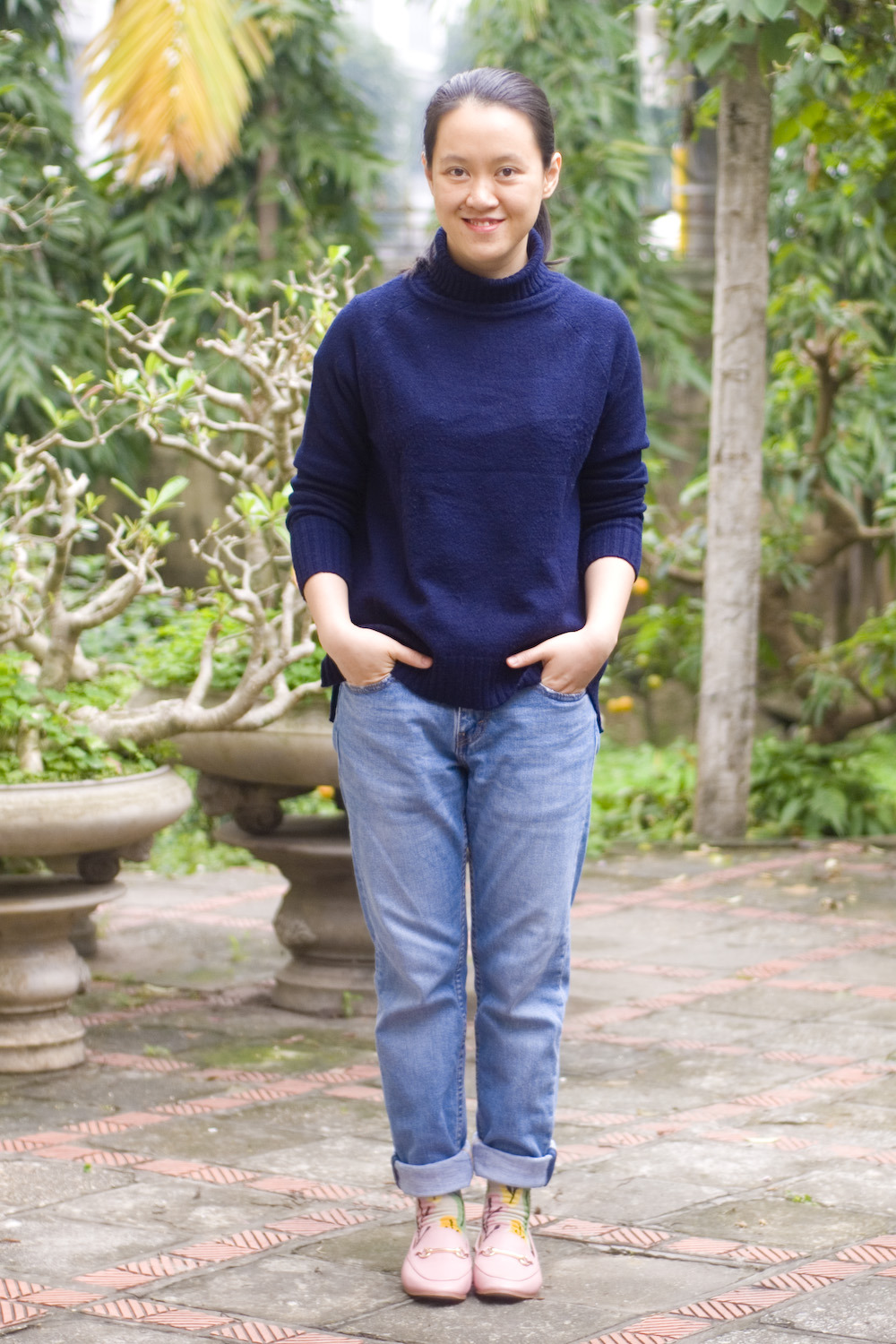 We may be back to work but I still have a few leftover work-from-home outfits, so here's one of them. In hindsight, this outfit could actually be an outfit for SIA – the colors are perfect. But lately, navy blue and pink has been one of my favorite color combos, so it's no surprise that I'm always reaching for it.
This is going to sound totally superficial, but I'm really excited to get back to work just for the prospect of being able to dress up again. It's too bad that the weather is warming up fast, which makes dressing up more difficult for me. I do have some new pieces I'm itching to wear though, and I'm looking forward to that.
---