Posted: September 9, 2015
Filed under: Clothes, Travel
| Tags: packing, travel
2 Comments
Like I said on Monday, last weekend I went on an exciting trip to Singapore. It was exciting because 1) it's been ages since I traveled, 2) I've never been there before, and 3) I went to see Dylan Moran's stand-up show!!!
Yeah. This is pretty much my reaction when I found out Dylan Moran was coming to Singapore: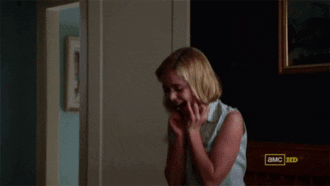 He's going to be on the same continent as me!
After some debating (meaning looking up flights to see if I could afford it), I decided to go. I booked the trip nearly 4 months in advance, so you can imagine how impatient I was. It also meant I had a lot of time to think about what to pack. Finally, this is what I settled on for a 3-day trip (actually it was more like 2 days, I arrived late on Friday and left early on Sunday):
I doodled this in July, when I proctored my school's entrance exam. Like I said, I had a lot of time to think about it.
The list includes: 2 tees, 1 chambray shirt, 2 pairs of pants (jeans & linen), 1 dress + 1 necklace (for the show – I didn't know if people would dress up or not but I wanted to), 1 cardigan + 1 scarf (for the plane), and 1 pair of slip-on sneakers. At the last minute, I also added my sandals just in case. And I'm glad I did, because after the first day of walking, my toes were screaming in the sneakers, so the sandals really came in handy.
I'm also glad that I packed the linen pants. It was super hot and humid (I didn't account for the fact that Singapore is on the equator), and if it wasn't for them, I would've died sightseeing in my jeans. So yeah, even though I don't want to over-pack, sometimes it's better to just be prepared.
More Singapore posts to come later this week!
---
Posted: July 22, 2014
Filed under: Clothes, Travel
| Tags: packing, travel
3 Comments
Usually when I pack for a trip, I don't really pay much attention to what clothes I'm bringing except to make sure that they are weather-appropriate. I do make packing lists but they usually look like this "Camera, Lenses, Camera Battery, Battery Charger, Tripod, Phone, Phone Charger, Kindle, Kindle Cable"… you get the idea. So I usually end up over-packing some things, and under-packing others. This time, I thought it would be a good idea to include actual clothes in the packing list, and here's what I'm bringing:
So that's 2 shirts (1 chambray, 1 flannel), 3 tees (2 short sleeved, 1 long sleeve), 1 cardigan, 1 sweater, 3 pairs of pants, 1 jacket, 2 scarves (no jewelry because I just know I'm going to lose it), 1 pair of hiking boots and 1 pair of flats just in case.
It may look too much for a week-long trip in the summer, but where I'm going (Da Lat, a town up in the Highlands in the south of Vietnam), the temperature goes from lower 70's to lower 60's, which for me is positively arctic. Plus it's the rainy season, hence the boots and the jacket. I could probably do with just two pair of pants and three shirts, but I still haven't forgotten the time I went trekking in Sa Pa and ended up covered in mud, so I like to have some back-ups this time. We'll see how well it works out. See you guys in a week!
---