Posted: May 8, 2020
Filed under:
Clothes
| Tags: blue, blue boyfriend jeans, navy turtleneck sweater, pink, pink loafers, socks
1 Comment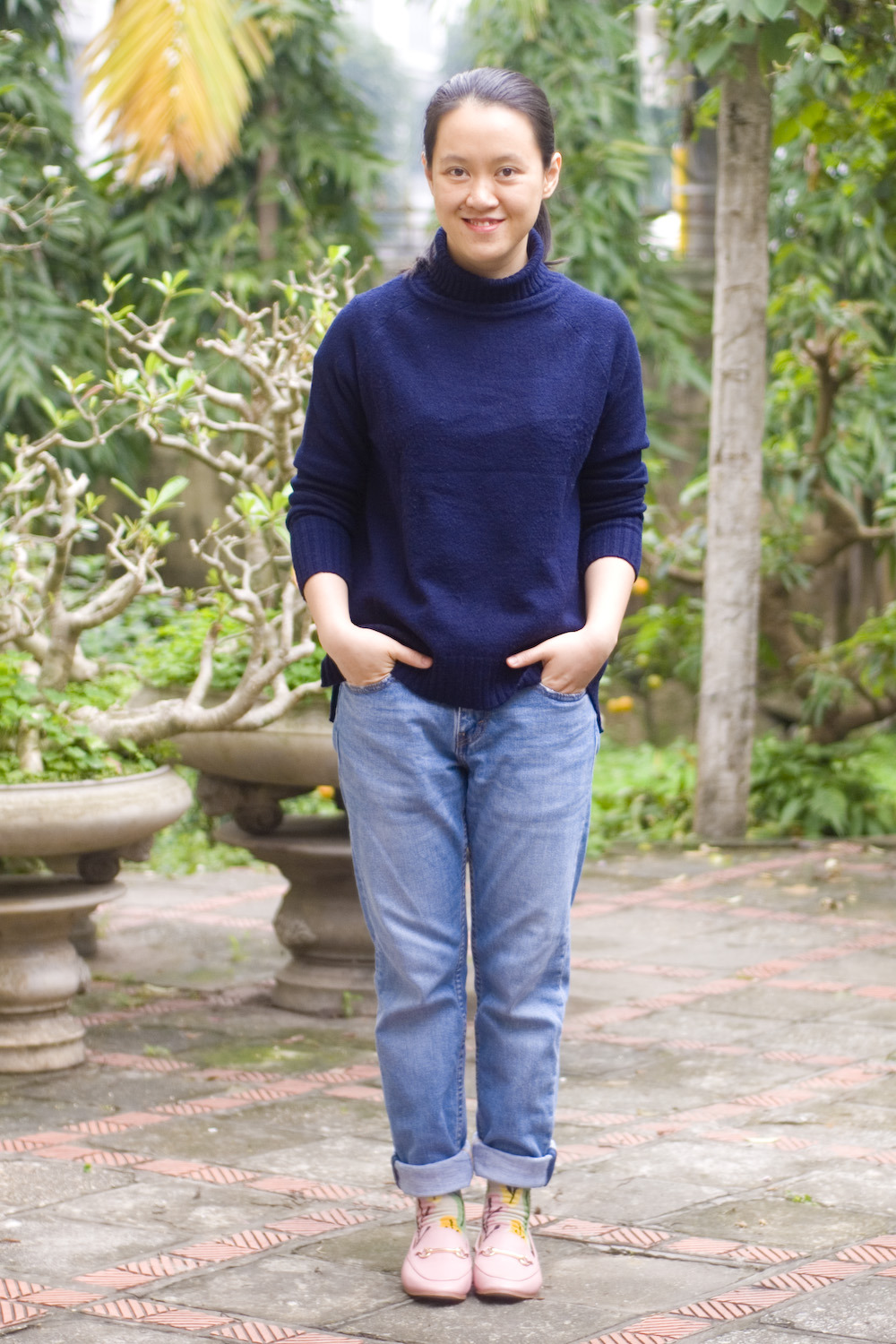 We may be back to work but I still have a few leftover work-from-home outfits, so here's one of them. In hindsight, this outfit could actually be an outfit for SIA – the colors are perfect. But lately, navy blue and pink has been one of my favorite color combos, so it's no surprise that I'm always reaching for it.
This is going to sound totally superficial, but I'm really excited to get back to work just for the prospect of being able to dress up again. It's too bad that the weather is warming up fast, which makes dressing up more difficult for me. I do have some new pieces I'm itching to wear though, and I'm looking forward to that.
---
Posted: January 27, 2020
Filed under: Clothes, Style Imitating Art
| Tags: blue, brooch, brown, brown cut-out ankle boots, maroon jeans, navy turtleneck sweater, purple, rainbow neckwarmer, red, style imitating art
4 Comments
Here's my interpretation of this week's SIA inspiration, the tapestry "Damunt de tu només les flors" by Spanish textile artist, Carles Delclaux Is. At first, the colors really stumped me, until I remembered my maroon jeans – though it is more red/brown than purple, it is OK for the background of the tapestry. The exuberant patterns are also a challenge, but by a stroke of luck, I just bought this rainbow-colored neck buff, which is perfect (it also works as a beanie.) To top it off, I added my heart brooch to reflect the heart motif. It doesn't go that well with the rest of the outfit, but it goes well with the tapestry, so I'm happy.
Don't forget to check Kim's blog on Wednesday to see other outfits inspired by this piece of textile art!
---
Posted: January 15, 2020
Filed under:
Clothes
| Tags: blue, brooch, brown, brown chelsea boots, mustard baggy corduroy pants, navy turtleneck sweater, yellow
1 Comment
This outfit works better in my mind. I guess I was inspired by the Land Girl uniform of sweater tucked into trousers, but the proportion is kinda off and I don't know why. Maybe because my sweater is a turtleneck and not a v-neck. Maybe I should've worn tall boots (but that'd take this outfit straight into cosplaying territory) or at least black boots. Maybe my black belt doesn't go. I don't know. I like the navy blue and mustard color combo though, and the brooch is cute, if I say so myself (a scarecrow brooch is perfect for an outfit inspired by Land Girl uniform, right?), so here we are.
---