Posted: July 6, 2018
Filed under:
Clothes
| Tags: beige heeled sandals, blue, brooch, green, green striped tee, navy culottes, white
Leave a comment
Another work outfit straggler here. This was taken a while ago, so I didn't remember why I added a brooch to this outfit. Oh wait, I think it was the day we had some important meeting or something, but it was too hot to wear a more formal shirt, so I added a brooch to make my T-shirt look less casual. And because my shirt has green stripes, a leaf brooch seemed like a good choice.
Hot as it was back then, it was probably still blessedly cool compared to this past week. Yesterday the heat index was nearly 120F! Thankfully school was out so I no longer have to come into work. Even if I still had to work, I don't think I could bike in this heat. I would be cooked alive.
---
Posted: June 8, 2018
Filed under:
Clothes
| Tags: black, black sandals, blue, brooch, navy culottes, navy print sleeveless blouse
Leave a comment
As I said last week, I had to sit in on the screenwriting thesis committee, so this is what I wore. At our school, the thesis defense is just a formality – the thesis is a script, which is judged by its own merits and not by how well the student defends it – but the students can still be quite nervous, so we try to keep it light and not too nerve-racking for them. Which is why I wore something simple, so it'd look like just another day in the classroom… if the classroom is actually a conference room and there are 5 teachers instead of one. Yeah, I don't blame the students for being nervous.
---
Posted: May 7, 2018
Filed under: Clothes, Style Imitating Art
| Tags: black, black loafers, blue, navy culottes, style imitating art, white, white embroidered blouse
4 Comments
I had a different outfit planned for this week's SIA. See, when I saw the cherry blossoms and the criss-crossing on the inspiration piece, a Japanese Nabeshima dish, I'd decided to wear my white embroidered cardigan and navy gingham shirt, with light-blue jeans. Unfortunately, the weather warmed up unexpectedly and completely upended my plan. So in the end I picked another embroidered piece – this blouse – and navy culottes (they're supposed to be culottes, but on my short legs, they look more like simple wide-leg pants. Which is just as well, because culottes are really unflattering on me) to represent the blue elements of the dish. Not the outfit I'd imagine, but I still liked it, both as an outfit and an interpretation of this week's inspiration.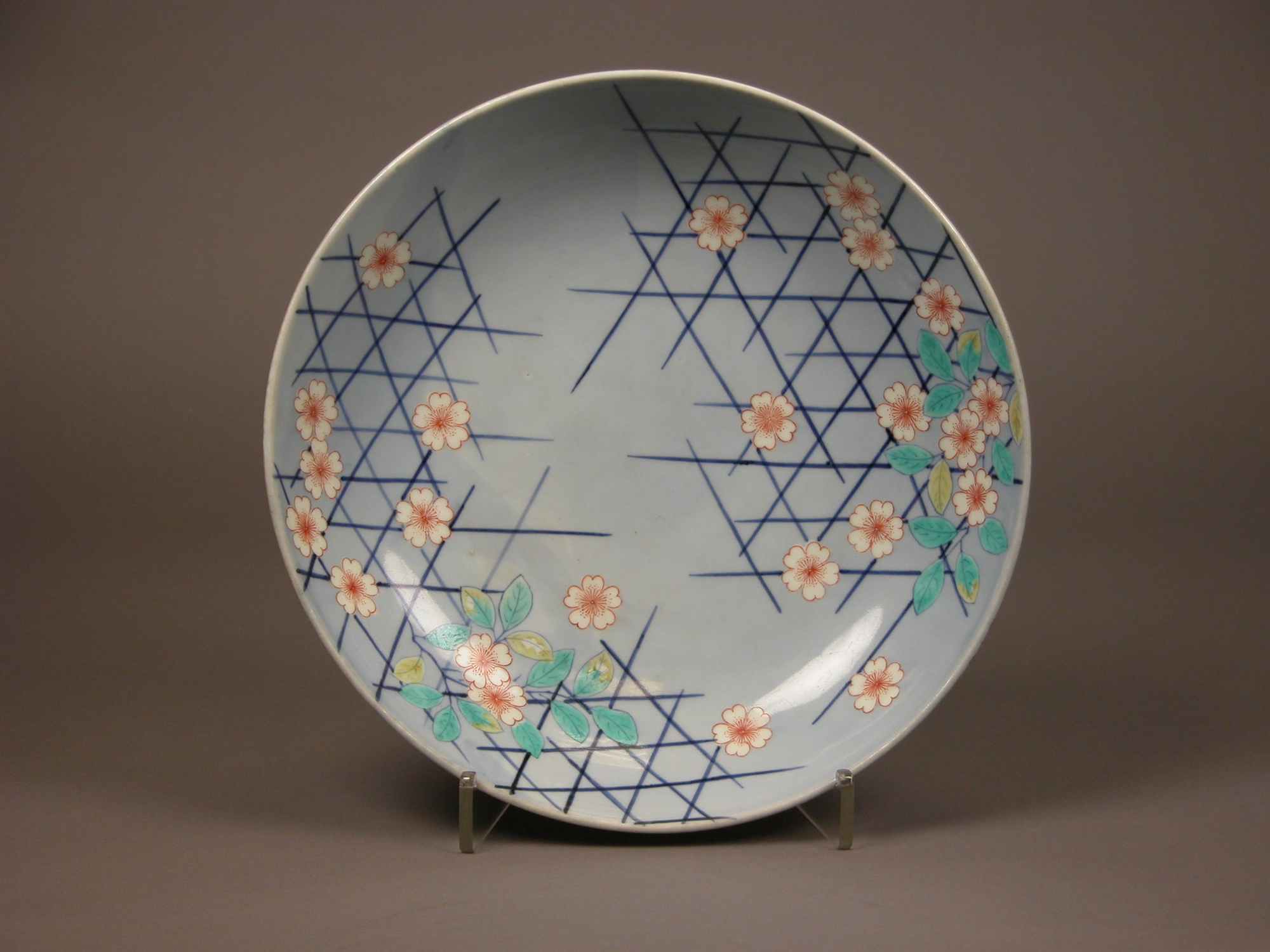 If you haven't sent me your outfit, you still have until tomorrow. Otherwise, see you in the round-up post on Wednesday!
---