Posted: September 5, 2022
Filed under: Clothes, Style Imitating Art
| Tags: brown, green, maroon dress, maroon heeled oxfords, red, style imitating art, william morris waistcoat
4 Comments
For this week's SIA, inspired by Keith Haring's "Tree of Life", I knew I had to go a bit interpretative because I have nothing in my wardrobe that can reflect the painting accurately. I have nothing in those colors, even. After digging around, I came up with this William Morris waistcoat – the leaf print is certainly reminiscent of the "tree" in the painting, and the colors are quite similar as well, only in more muted tones. I layered it with my maroon dress, which miraculously matches the background of the waistcoat. It's still too warm for layering, but the waistcoat is light enough, so it wasn't too bad early in the morning. Basically, I took a Pop Art painting and turned it into an Arts and Crafts outfit instead. But hey, that's the fun of SIA, right?
Don't forget to drop by Shelbee's blog on Wednesday to see other outfits inspired by this painting!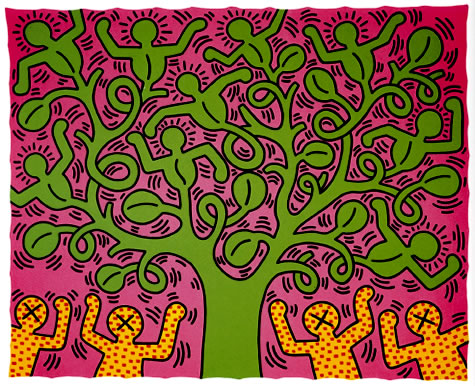 ---
Posted: January 15, 2021
Filed under:
Clothes
| Tags: black, black lace-up boots, brown, maroon dress, printed velvet blazer
Leave a comment
Here's another velvet blazer-and-dress outfit with the same dress, just a different blazer this time. I noticed that the color of this dress is echoed in the print of the blazer, so I thought they would go well together. I opted to keep the rest of the outfit simple (i.e. not adding a brooch to it) because I'm terrified of damaging the velvet with the brooch. Luckily, this blazer is already so focus-pulling, so the outfit still has enough interest without any accessories.
---
Posted: January 6, 2021
Filed under:
Clothes
| Tags: black, black alligator boots, blue, blue velvet blazer, brooch, brown, maroon dress
1 Comment
Earlier last year, like many people stuck in lockdown (which seems like a million years ago), I watched "Normal People", the mini series based on Sally Rooney's novel of the same name. I watched it simply because everybody raved about it, but I didn't enjoy it much (I find the two leads exasperating to watch and their relationship rather toxic.) What I did enjoy, though, was the fashion, especially Marianne's wardrobe. In fact, my obsession with velvet this fall/winter season comes from the many velvet blazers and dresses Marianne wore. So here's my interpretation of one of her looks – the blue velvet dress with the maroon blazer. I chose to reverse the colors (maroon dress and blue blazer), plus my dress is not velvet, but it's not bad, if I do say so myself.
---