Posted: July 29, 2019
Filed under: Clothes, Style Imitating Art
| Tags: blue, brown, brown flat sandals, hat, navy print shorts, pink, pink v-neck tee, style imitating art
4 Comments
This week's SIA inspiration stumped me a little bit, because I wanted to include all the colors in the painting (Paul Gauguin's "The Siesta"), and I do have most of those colors in my wardrobe, but they don't necessarily go well together in an outfit. I then decided to concentrate on just one of the women in the painting – the one in the foreground, in the purple-pink top, navy skirt, and hat with a polka-dot band. My purple tunic is actually perfect for it, but it's a little dressy for casual, summer wear, so in the end, I went for a simple tee-and-shorts outfit. I paired it with my cognac sandals to mimic the touch of orangy brown in the painting (can't leave out all the other colors) and wrapped my scarf around my mom's hat to complete the look. Not an exact match, but for SIA these days, I tend to aim for wearable, real-world outfits rather than matching the inspiration exactly, so I'm happy with it.
Don't forget to check Kim's blog on Wednesday to see other outfit inspired by this painting!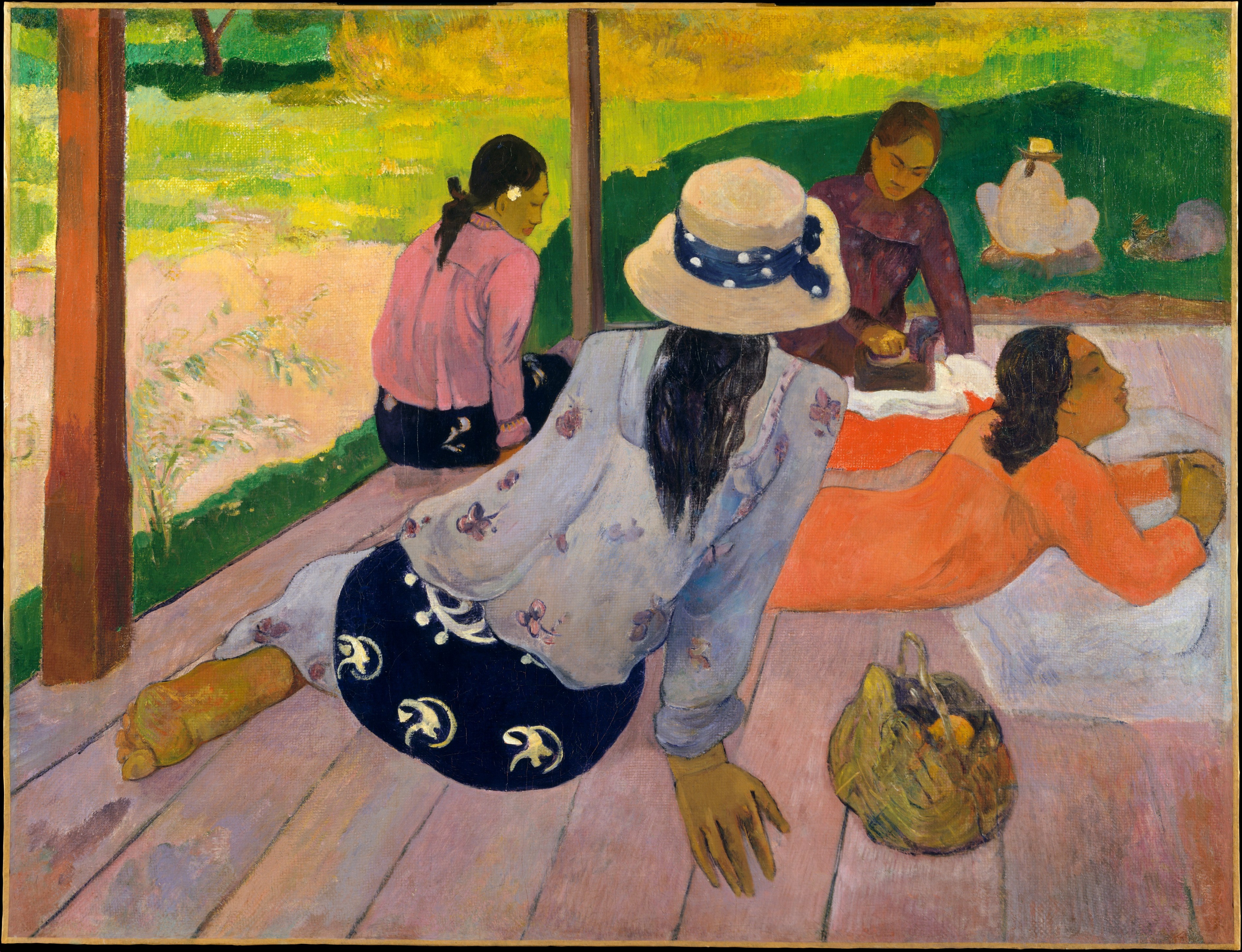 ---
Posted: March 5, 2018
Filed under: Clothes, Style Imitating Art, Travel
| Tags: beige, beige flat sandals, beige scarf, cuba, hat, magenta jersey dress, pink, style imitating art, travel
4 Comments
I'm back from my Cuba trip! There are a massive amount of photos to sort through, and I'm still recovering from the looooong flights, but rest assure that there will be a lot of travel posts in the upcoming weeks. In the meantime, here is a teaser and an SIA post, all in one.
Before I left for my trip, I asked Jen to send me the inspiration for the upcoming challenge so I could plan ahead. The inspiration, which is the portrait of Dido Elizabeth Belle and her cousin Elizabeth Murray, turns out to be perfect, as I was traveling with a friend, so I decided to recreate the painting if we could.
We finally got a chance to take the photo at our casa (homestay) in Trinidad, as it has a nice little cove with plants and chairs. There wasn't a plate of fruit for us to use as props, so we had to make do with an ashtray, but it looks pretty close, doesn't it? Here are some more photos of my full outfit during our sightseeing of the town:
Don't forget to check Jen's blog for the full round-up on Wednesday!
---