Posted: July 27, 2020
Filed under: Clothes, Style Imitating Art
| Tags: blue, blue suede loafers, brooch, green, green tee, mustard baggy pants, style imitating art, yellow
3 Comments
For this week's SIA, inspired by Suzuki Kiitsu's "Morning Glories" (and the post title is, of course, the title of Oasis's seminal sophomore album), I went back to the basics. It's a bit surprising that amongst all the embroidered clothes I've bought and thrifted, there is nothing that matches the color scheme of the inspiration, but luckily, the rest of my closet can fill in the gaps (although my t-shirt is more teal than green.) The result is less exuberant than I would've liked, but hey, that's the beauty of SIA – you don't have to match the inspiration exactly.
If you haven't sent me your outfit, you have until tomorrow. And don't forget to check back on Wednesday to see all the outfits inspired by this print!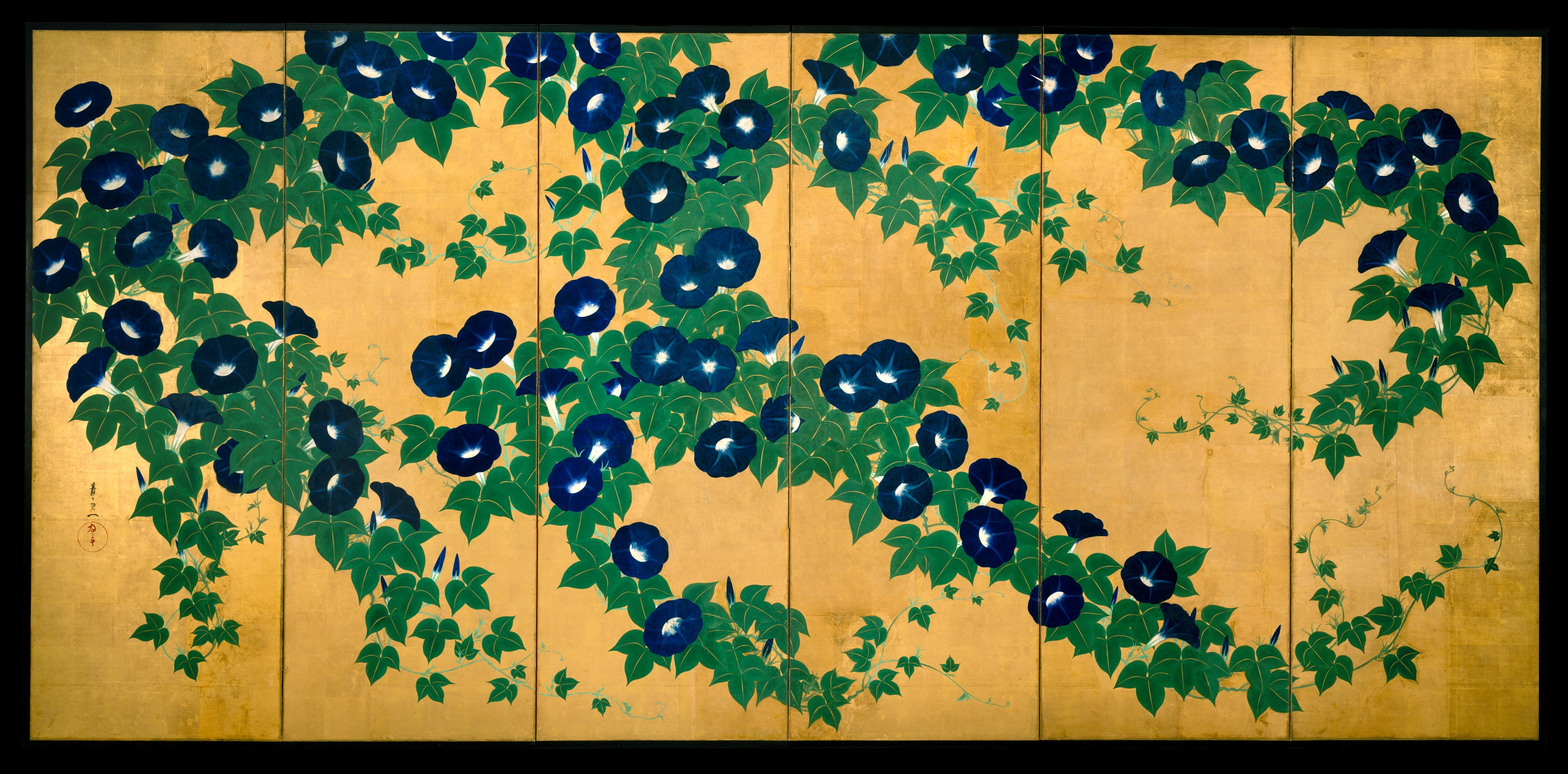 ---
Posted: June 5, 2019
Filed under:
Clothes
| Tags: black, black baggy pants, black striped top, black-and-silver oxfords, blue, blue oxfords, green, green tee, necklace
Leave a comment
These two oufits are very simple and feature the same pair of pants, so I decided to put them together in one post rather than giving them their own posts. Also, they're both built around the shoes. I know it sounds like a total cliche, but shoes really are the item that will make or break the outfit for me. The wrong pair of shoes can ruin a carefully selected outfit, and on the other hand, I could be wearing the simplest outfit – like these – but a good pair of shoes would still make me feel put-together.
---
Posted: April 22, 2019
Filed under: Clothes, Style Imitating Art
| Tags: brown, brown oxfords, gray, gray plaid baggy pants, green, green tee, pink, pink floral scarf, style imitating art
1 Comment
I had several ideas for this week's SIA, inspired by the cover of a Gregory & Son seed catalogue, but because the weather has been so unpredictable lately (last week it went from 70 degrees one day to 100 the next!!!), I didn't decide what to wear until the day of. I simply picked out the main colors in the inspiration image – gray, green, pink/red, and a touch of brown – and pulled pieces from my closet accordingly. My scarf also has a floral print on it, though it may be difficult to see.
By a stroke of luck, our rose bushes have started blooming – and there are roses in the image as well. I wanted to take photos with the flowers, but because of the position of the rose bushes, it proved to be impossible, so here are some photos of the flowers instead:
Don't forget to stop by Daenel's blog on Wednesday to see how others interpret this springlike image!
---