Posted: March 9, 2020
Filed under: Clothes, Style Imitating Art
| Tags: blue, blue striped popover, blue suede loafers, green, green floral scarf, mustard baggy pants, yellow
2 Comments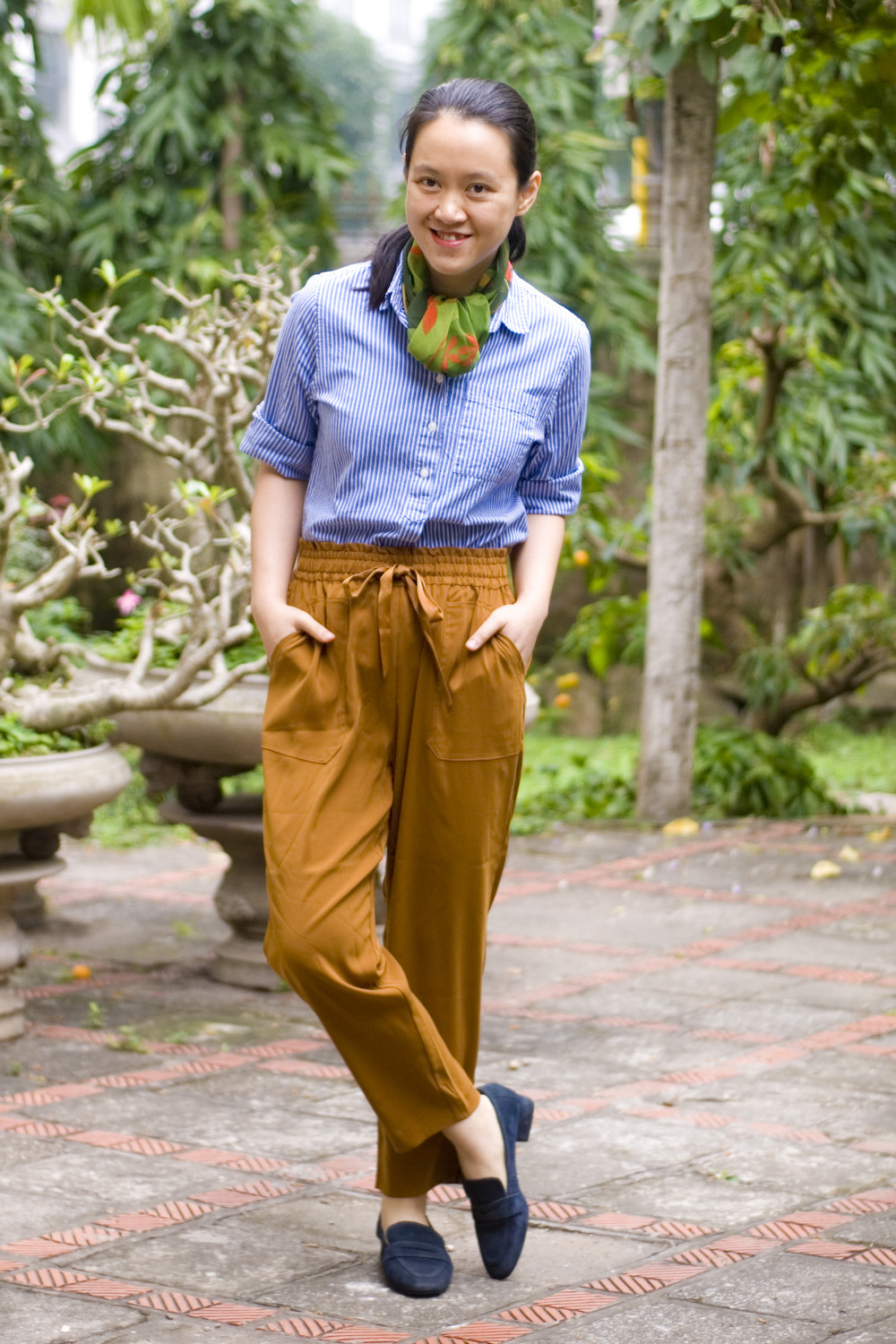 Here's my outfit for this week's SIA, inspired by the French poster for Hoover vacuum cleaners. I've known right away that I'd wear these pants – they're not bright orange like in the poster, but they're the closest I have. The blue striped shirt and navy loafers are also easy choices, to mimic the touches of blue and navy in the poster. The green and yellow bits took me some thinking, but then I remembered this green scarf with yellow and orange print – perfect!
Don't forget to check Kim's blog on Wednesday to see other outfits inspired by this poster.
---
Posted: July 30, 2018
Filed under: Clothes, Style Imitating Art
| Tags: brown, brown loafers, gray, gray pants, green, green floral scarf, white, white sleeveless blouse
3 Comments
For this week's SIA, inspired by J.C. Leyendecker's ad for Arrow shirt collar, I went the simple route by pairing my white blouse with my gray pants. A collared, button-up shirt would be a naturally choice, but as I'm on summer break and want to keep the outfit casual, I went with this blouse. At first, I planned to pair it with my white pants, but they don't match – and you know how twitchy I get about mismatched whites and blacks – so in the end, I chose these pants, which are an entirely different shade but still light enough to mimic the light tones of the ad. For a touch of color, I used my green scarf as a belt, and because the two people in the ad look like they're on a boat, I wore my brown loafers, which kinda look like boat shoes. So yeah, it's simple, but I think it's a pretty close interpretation.
Don't forget to send me your outfit if you haven't already, and come back on Wednesday to see other looks inspired by this ad!
---
Posted: March 27, 2014
Filed under:
Clothes
| Tags: blue, green, green floral scarf, khaki blazer, mustard heeled oxfords, navy skinny jeans, white, white tee
2 Comments
One of the surest signs of spring in our garden is the amaryllis blooms. This year, thanks to the rain, they're stronger than ever, and every pot is a mass of bright red. So naturally I had to use them as the background for my photos, especially since my scarf kinda matches the blooms a bit too, though it's orange and yellow rather than red.
As for the outfit, I'm thinking this is a formula worth remembering for spring and fall – simple top, blazer, jeans, heels or ankle boots, and light scarf. I'm still having some difficulty dressing like a teacher and not a student (mostly because I don't remember to!) but a blazer really does go a long way in making an outfit look more professional.
Blazer & Scarf: hand-me-down, Jeans: Mango, T-shirt: Uniqlo, Heels: Forever21
---