Posted: May 8, 2020
Filed under:
Clothes
| Tags: blue, blue boyfriend jeans, navy turtleneck sweater, pink, pink loafers, socks
1 Comment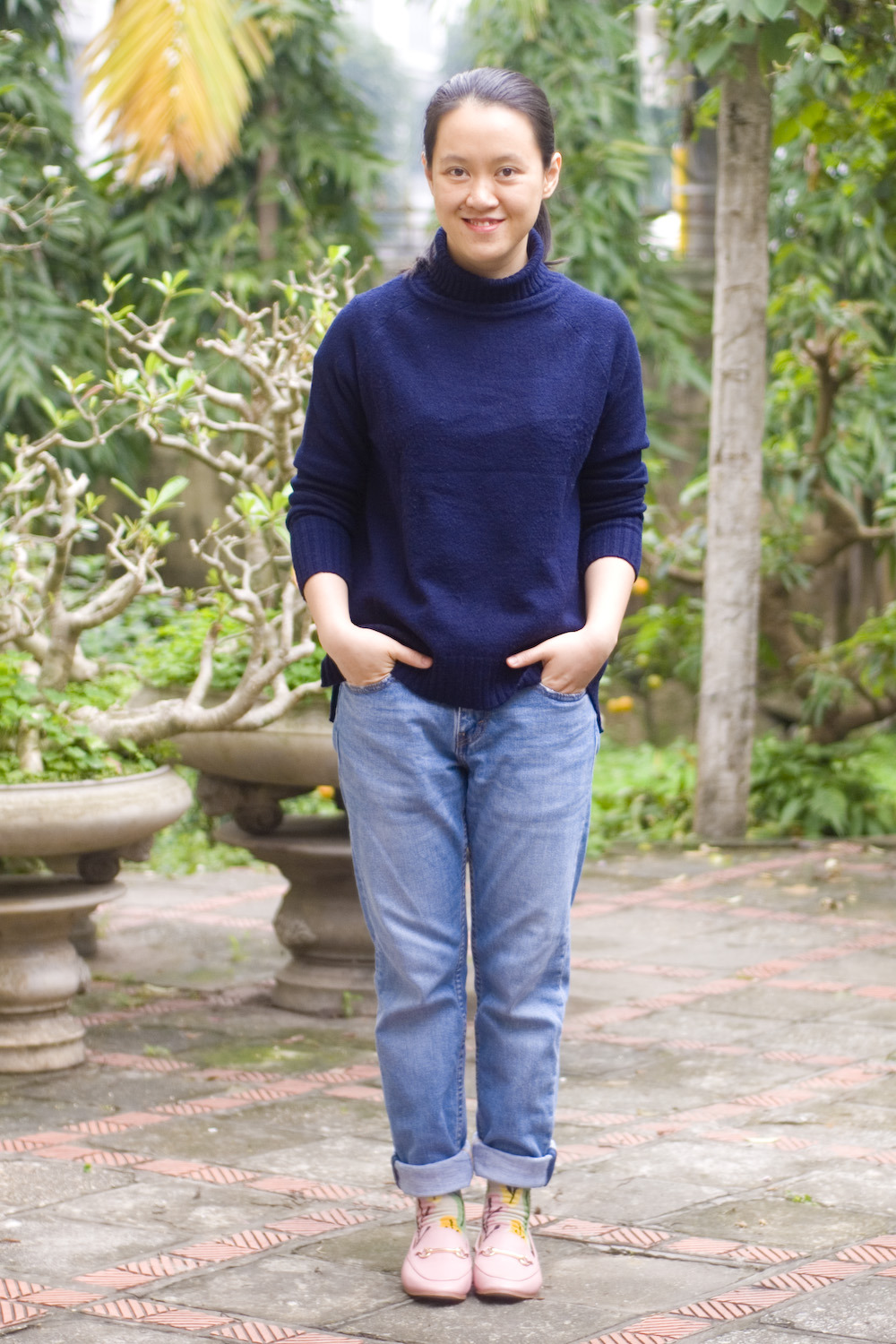 We may be back to work but I still have a few leftover work-from-home outfits, so here's one of them. In hindsight, this outfit could actually be an outfit for SIA – the colors are perfect. But lately, navy blue and pink has been one of my favorite color combos, so it's no surprise that I'm always reaching for it.
This is going to sound totally superficial, but I'm really excited to get back to work just for the prospect of being able to dress up again. It's too bad that the weather is warming up fast, which makes dressing up more difficult for me. I do have some new pieces I'm itching to wear though, and I'm looking forward to that.
---
Posted: January 3, 2020
Filed under:
Clothes
| Tags: black, black oxfords, black striped top, blue, blue boyfriend jeans, white, white linen blazer
1 Comment
This white blazer is the last one I got from raiding my mom's closet. At first, I was going to save it for the spring, as it is linen and fairly lightweight, but then the weather warmed up unexpectedly, so I decided to bring it out.
On a different note, remember how I always lament that I can't get the tuck right with my sweaters? While I don't think I can ever master it, there's something else that I excel at – the sleeve-roll. Just look at the roll/cuff on my sleeves here. I don't mean to brag, but it's the perfect amount of disheveled, right? I only wish I could tuck my sweaters into my trousers/jeans as naturally as I roll my sleeves. But I guess the roll comes naturally to me because I always push my sleeves up anyway, while I tend to wear my tops untucked so I can't figure out how to tuck them in.
---
Posted: January 1, 2020
Filed under:
Clothes
| Tags: black, black pumps, blue, blue boyfriend jeans, gold blazer, navy paisley blouse, yellow
Leave a comment
Happy New Year everybody! We do have a day off today, but it was work as usual yesterday and would be work as usual again tomorrow, because our proper winter holiday doesn't start until the Lunar New Year, which will be in late January this year.
Anyway, to celebrate the new year, here's a colorful and shiny outfit from last week. It was inspired by this. I may not look as badass, but I think it's an appropriate start for a new decade. Hey, it's the Roaring Twenties (though, judging from the way the world is going, it may be more like the Screaming Twenties), so let's bring out the shiny and the flamboyant, right?
---