Posted: June 5, 2020
Filed under:
Clothes
| Tags: black, black culottes, black loafers, white, white lace top
2 Comments
My style has changed quite a bit since I first started discovering it, but one of the things I've always liked through my style changes is Edwardian-inspired fashion. I've never met a broderie anglaise top that I don't like. I've bought so many straw hats, even though they're super impractical for me. Show me anything white and trimmed with crocheted lace and I'll be itching to get my hands on it. And one of my earliest pin on Pinterest is this top from Shop Ruche, which, sadly, was too expensive for me back then and was soon sold out.
So imagine my excitement when I saw the very same top at one of the second-hand shops I recently discovered. I mean, what are the odds, right? Luckily it is my size (you don't always get so lucky with thrift stores), so of course, I snapped it up right away. I can't wait to wear it more!
---
Posted: May 18, 2020
Filed under: Clothes, Style Imitating Art
| Tags: belt, black, black loafers, brooch, green, light green shirt dress, style imitating art
3 Comments
I struggled a bit with this week's SIA, inspired by this gorgeous Worcester teapot. I may have the individual pieces, but they don't all go together, and I didn't want to force them together just for the sake of mimicking the inspiration exactly. In the end, I decided to just go for the general feel of the piece rather than being literal.
By a stroke of luck, I recently found this dress in an online thrift store, and the color and the delicate embroideries on the top kind of remind me of the lighter part of the teapot, and I paired it with this braided belt to mimic the handle and my bird brooch is a nod to both the birds and the gold touches in the design.  All in all, I'm happy with the outfit, even if it's not as close to the inspiration as I'd like.
Don't forget to check out Daenel's blog on Wednesday to see other outfits inspired by this teapot!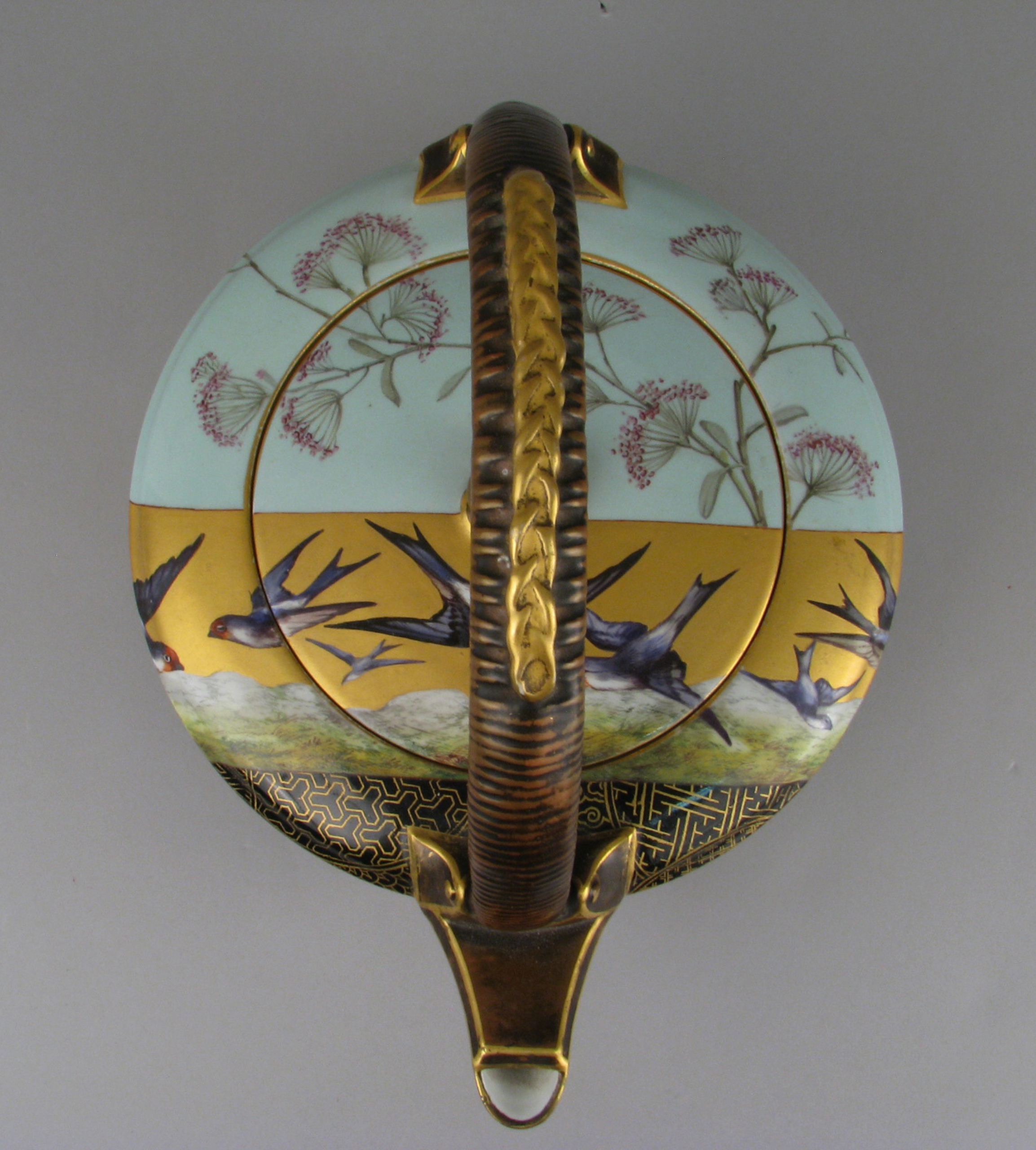 ---
Posted: April 22, 2020
Filed under: Clothes, Style Imitating Art
| Tags: black, black loafers, hat, red, red printed dress, style imitating art
2 Comments
Here's my second outfit for SIA, inspired by Edward Hopper's "Carolina Morning" (outfit #1 is here.) We had a warm weekend last week, so I decided to mimic the woman in the painting by bringing out this dress and my sunhat (yes, I know the woman is wearing heels, but it felt a bit too… extra to wear heels just to take outfit photos at home.) And the print on my dress has all the colors of the painting too – blue, beige, and a bit of green and yellow – so this isn't out-there as it seems.
Remember to drop by Kim's blog for the full round-up of outfits inspired by this painting. Stay safe!
---