Summer Travel & Blog Schedule
Posted: July 1, 2016
Filed under: Life, Travel
| Tags: travel
3 Comments
At the beginning of the summer, I said that I was planning a trip and would tell you guys about it when the time came, so here it goes:
I'M GOING TO EUROPE FOR FIVE WEEKS!!!

This isn't actually my first Euro trip, but it's a trip two years in the making, and my first "big" overseas trip in six years (my Singapore trip last year didn't count), so it's pretty exciting.
It started out as this: after our travel in Vietnam, my friend Debbi and I wanted some more adventure. At first we set our sight on Australia. That didn't work out, so Debbi suggested Iceland, which, to be honest, wasn't on my list of dream destinations at all, but the more I looked into it, the more attractive the idea became, so we decided on it.
I know the best way would be for me to have a "home base" of sort in Europe and fly from there to Iceland. I was debating between Germany (where a lot of our family friends live) and the Netherlands (where two of my high school friends live), and finally settled on the Netherlands, since I've never been there before.
Eventually, after much saving and planning and emailing back and forth, I'm now going to the Netherlands, Belgium (where I also have friends), and Iceland.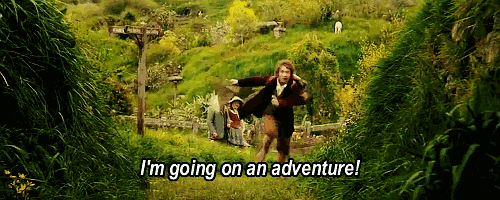 What does this mean for the blog in the month of July and August? I already scheduled a series of posts about my past travels, so the blog will be well taken care of. There will be SIA posts, of course (whether I can participate is another matter, but I will post the inspirations), and if I have time, I'll try to post about my current travel as well.
So here's to a fun trip and hoping that I won't return like this…
You must watch the entire episode, but if you don't have the time, this clip will do
---