Singapore Packing List
Posted: September 9, 2015
Filed under: Clothes, Travel
| Tags: packing, travel
2 Comments
Like I said on Monday, last weekend I went on an exciting trip to Singapore. It was exciting because 1) it's been ages since I traveled, 2) I've never been there before, and 3) I went to see Dylan Moran's stand-up show!!!
Yeah. This is pretty much my reaction when I found out Dylan Moran was coming to Singapore: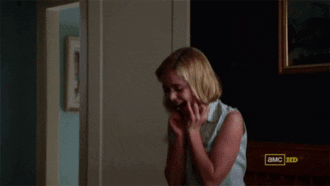 He's going to be on the same continent as me!
After some debating (meaning looking up flights to see if I could afford it), I decided to go. I booked the trip nearly 4 months in advance, so you can imagine how impatient I was. It also meant I had a lot of time to think about what to pack. Finally, this is what I settled on for a 3-day trip (actually it was more like 2 days, I arrived late on Friday and left early on Sunday):
I doodled this in July, when I proctored my school's entrance exam. Like I said, I had a lot of time to think about it.
The list includes: 2 tees, 1 chambray shirt, 2 pairs of pants (jeans & linen), 1 dress + 1 necklace (for the show – I didn't know if people would dress up or not but I wanted to), 1 cardigan + 1 scarf (for the plane), and 1 pair of slip-on sneakers. At the last minute, I also added my sandals just in case. And I'm glad I did, because after the first day of walking, my toes were screaming in the sneakers, so the sandals really came in handy.
I'm also glad that I packed the linen pants. It was super hot and humid (I didn't account for the fact that Singapore is on the equator), and if it wasn't for them, I would've died sightseeing in my jeans. So yeah, even though I don't want to over-pack, sometimes it's better to just be prepared.
More Singapore posts to come later this week!
---