Weekend Round-Up #66
Posted: December 8, 2012
Filed under:
Life
| Tags: music, weekend
2 Comments
It's been cold and rainy for almost the whole week and my niece was sick again (she's better now) so I didn't go outside a whole lot (OK, not at all) and therefore had a bad case of cabin fever. That's one of the setbacks of working from home. You forget that there's an outside. Anyway, despite me staying inside so much, this isn't a particularly fun round-up… and I apologize for that.
COOL STUFF:
– This sweater from Anthropologie. Can't afford it, of course, but I can dream, can't I?
– A couple of outfits from my blogroll this week (and yes, I'm jealous of their bare legs. It may be 65 degrees here but trust me, bare legs is not an option):
– I've seen a lot of gadgets invented to keep teabags in your mug, but this might be the cutest:
– From the department of WTF History, this bizarre bicycle campaign (Attack of the 50 foot Cyclist?)
– This puppy ("What puppy?" you might say):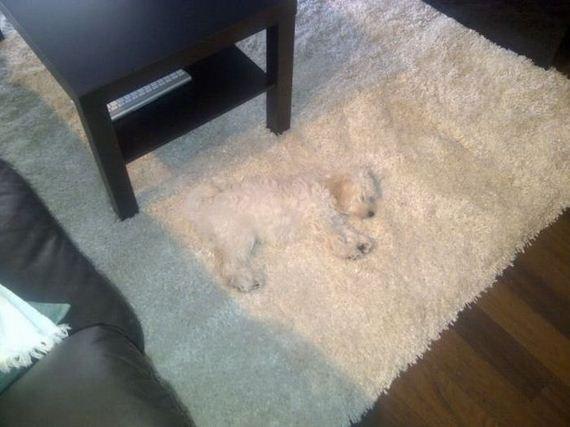 – This harp-playing raccoon:
– And finally, something I'm sure we can all relate to:
COOL LINKS:
– I have to open with this: the teaser trailer for Star Trek: Into Darkness is out. Go watch it now and bow down to Benedict Cumberbatch!
– OK, one more for the geek in me: The Hawkeye Initiative, a blog dedicated to showing how ridiculous the poses of female characters in comic books are. I approve.
– Ridiculous and profound life lessons from bathroom walls.
– A lovely guide to a DIY holiday, courtesy of ShopRuche.
– Another DIY, from Honestly WTF this time, for boot stuffers. I'll probably need this… once I replace my old pair.
No Blog/Book of the Week this week. In fact I'm rethinking these two features. I may try something more in-depth with both of them, maybe actually reaching out to the blogger and interview them, and do a full book review. The book reviews I can do easily, but the blogger interview is a different matter… I'm too shy for that… we'll see.
SONG OF THE WEEK: "Skeleton Key" by Margot and the Nuclear So and So's. I discovered this band after Kallie of Happy, Honey and Lark talked about them on her blog. I like Kallie's style so I figured her music was worth checking out too, and I wasn't disappointed. They sound a bit like Guster, a bit like Phantom Planet, perhaps with a touch of Ben Folds too (all favorites of mine), and when I found out they were named after Margot Tenenbaum, I was sold.
---